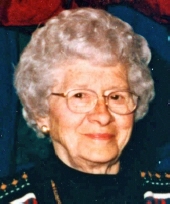 Obituary for Dena Miller
German Valley - Dena Miller, 92, of German Valley, died Friday morning, April 18, 2008, in Stephenson Nursing Center, in Freeport. Born June 12, 1915, in German Valley, the daughter of Dick and Grace (Fransen) Ammerman. Dena married Menno L. Miller on January 17, 1937, in Wallkill, N.Y. She worked on the family farm with her husband, retiring in 1966. Dena then worked at Micro Switch for seven years. She was an active member of Silver Creek Reformed Church, the King's Daughters Society of Silver Creek Church, and the Pleasant Prairie Academy Auxiliary. Dena was a quilter and rug maker, and an avid euchre player.

Dena is lovingly survived by her son, Norman (Eunice) Miller of German Valley; their children, Lisa (Todd) Broach of Fort Knox, Ky., Ken (Angie) Miller of Bessemer City, N.C., Randy (Rae Ann) Miller of German Valley and Kara (Rich) Eisenmann of Paxton; son, Roger Miller of Venice, Calif.; daughter, Marilyn Barboza of Santa Monica, Calif.; her children, Dion Barboza of Vista, Calif. and Nicole (Michael) Pedro of Rancho Santa Margarita, Calif.; great-grandchildren, Kameron, Bethany, Brandon and Kendra Broach, Brock Miller, Corbin, Cortney and Bryce Miller, Wyatt and Jessalyn Eisenmann, Hannani and Leilani Pedro and Anthony Robles; sisters-in-law, Esther and Gloria Miller; and numerous nieces and nephews.

Dena was predeceased by her husband, Menno Miller on November 23, 1984; granddaughter, Beth Elaine Miller; brothers, Herman, Ralph, Richard, Andy and Donald Ammerman; sisters, Mabel and Lois Ammerman, Ida Lapp, Grace Klaus and Dorothy Haas.

Funeral Information

Service is at 11:00 a.m., Wednesday, April 23, 2008, in Silver Creek Reformed Church, 326 S. Bunker Hill Road, German Valley, with the Rev. Randall P. Knoll officiating. Burial in Silver Creek Cemetery, in German Valley. Visitation 5:00 p.m. to 7:00 p.m., Tuesday, April 22, 2008, in Genandt Funeral Home, 145 Church St., German Valley.
Read More