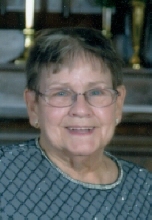 Obituary for Dette June Montgomery
Freeport Dette June Montgomery, 84, of Freeport, died Friday, August 25, 2017 at Pinecrest Manor in Mt. Morris. Born June 6, 1933 in Cortland, IL the daughter of Harry Emil and Jennevieve (Agno) Meineke. Graduated from DeKalb High School in 1951. Dette married Leonard Joseph Babe Twombly Jr. on August 15, 1953 in DeKalb. She then married Robert Leroy Montgomery on November 28, 1964 in DeKalb. Dette did secretarial work for Northern Illinois Finance in DeKalb, Crum-Halsted in Sycamore, The National Bank and Trust in Sycamore, Economy Insurance in Freeport and the Stephenson County Senior Center. She was a trip planner for The National Bank and Trust. Dette most enjoyed spending time with her family and many friends and was an avid reader, enjoyed politics and loved animals.

Dettes family would like to thank FHN staff, Pinecrest Manor staff, Dr. Beth Kalnins, Dr. Panagos, Freeport Home Medical and Father Eldred George for their loving care.

Dette is lovingly survived by her children, Shannon (Gregg) Lizer of Lanark, Robin (Patti) Twombly of Pecatonica; dear nephew, Rex (Amy) Bissonnette of Cedar Park, Texas; grandchildren, Jessica (Chris) Schneiderman of Freeport, Timothy Lynch of Forreston, Chelsey Lizer (Chris) Cederholm of Forreston, Charles (Allison) Twombly of Platteville, WI, Samuel Twombly of Pecatonica; great-grandchildren, Corinne Dette, Mitchell and Lucas Schneiderman, Eva and Ian Lynch, Gage Cederholm, Avery Twombly; several nephews and nieces.

Dette is predeceased by her parents; husband Robert Montgomery on March 27, 2009; brother Phil Bissonnette.

Funeral Information

Memorial service 11:00 a.m. Friday, September 1, 2017, in Grace Episcopal Church, 10 S. Cherry Avenue, Freeport, with Father Eldred George officiating. Cremation rites accorded.