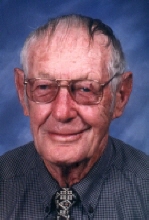 Obituary for Donald "Don" R. Reints
Leaf River - Donald "Don" R. Reints, 86, of Leaf River, died Thursday, November 23, 2006, in his home. Born April 9, 1920, in Forreston, the son of Dick W. and Susan M. (Kapperman) Reints. He graduated from Forreston High School in 1938 and attended University of Illinois, in Champaign. Donald married Betty J. Haselton on September 22, 1946, in Rockford. Together they farmed in Leaf River for many years. Upon retiring from farming, he was vice president of Murphy Moving Storage, in Rockford, from 1974 to 1985. Don was a member of the Leaf River United Methodist Church and the Leaf River Lions Club. He enjoyed gardening and canning his seasonal fruit and vegetables, besides cooking.

Don is lovingly survived by his brothers-in-law, Eugene (Thelma) Haselton of Boulder City, Nev., Dale (Marge) Haselton and Richard (Darlene) Haselton, both of Rockford and Francis "Bill" (MaryLou) Haselton of Poway, Calif., several nieces, nephews and cousins, special friend, Marian Windett of Mt. Morris and special neighbors.

Don was predeceased by his parents and his wife, Betty Reints, on December 7, 1996.

Funeral Information

Service is at 1:00 p.m., Friday, December 1, 2006, in Genandt Funeral Home, 602 N. Elida St., Winnebago, with visitation from 12:00 p.m. until service time; the Rev. Rick Neblock, pastor of Winnebago United Methodist Church, will officiate. Burial in Willwood Burial Park, in Rockford.
Read More