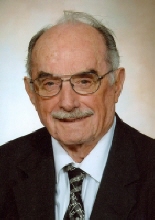 Obituary for Donald L. Milne
Burritt - Donald L. Milne, 92, of Burritt, died Monday, July 20, 2015, in River Bluff Nursing Home, Rockford. Born January 6, 1923, in Winnebago, the son of Wendell and Elizabeth (Bowden) Milne. Graduated from Winnebago High School in 1941. Took piano lessons beginning at age seven and started playing fulltime for Winnebago Methodist Church at age nine. Served as organist and choir director at Messiah Lutheran Church, 1952 - 1957. Played piano and organ in many venues, including the Mormon Tabernacle pipe organ in Salt Lake City, Utah and the Coronado Theatre Grande Barton pipe organ in Rockford. For 77 years, played piano and organ for several churches, funeral homes, Wesley Willow Chapel and the annual Police memorial service, retiring in 2009. Moved to Burritt in 1941, farmed for several years and worked as a painter, wallpaper installer and doing construction work for a self-employed contractor. In 1951, built his original house and continued to live there throughout his life. Hired by Winnebago County Sheriff's Department in 1956 and retired as a lieutenant in 1980.

65 year member of former Burritt Grange. Current member of New England Grange, Winnebago County Pomona Grange, Illinois State Grange and National Grange for which he held many offices including 12 years as Illinois State Grange Chaplain. Chaired last three years of the Trask Bridge Picnic (1963, 1964 and 1965). Member and past president of Land of Lincoln Theatre Organ Society. Served on the boards of Rockford Chapter of the Model T Ford Club, the H.H. Franklin Club, the Mid-west Region H.H. Franklin Club, the Rockford Historical Society, Burritt Cemetery Board and Burritt Township History Museum. Member of International Alliance of Theatrical Stage Employees. Served as Burritt Township Supervisor for 16 years and served several years as president of the Winnebago County Township Officials Association. Member of Friends of Beckman Mill, Robert Burns Club, Matchbox Toy Club and Retired Senior and Volunteer Program. Member of Burritt Community Church. Presented programs showcasing his travels through 49 states which included visiting over 800 covered bridges in the United States and Canada.

Married Maxine Lightfoot on May 2, 1948, with whom he had a son, Dennis L. She died April 16, 1963. He then married Carole Fisher on July 2, 1966, with whom he had two daughters, Xan and Lyn.

Survivors include his wife, Carole; son, Dennis L. (Roline) Milne; daughters, Xan Milne and Lyn (Brent) Furlong; two grandchildren; three great-grandchildren and special feline, Abby.

Special thanks to the staff of River Bluff Nursing Home, including dear caretaker Lawanda, for their loving care and support.

Funeral Information

Service at 10:00 a.m. Friday, July 24, 2015, in Genandt Funeral Home, 602 N. Elida St., Winnebago, the Rev. Larry Moody, pastor of Burritt Community Church, Rockford, officiating. Burial in North Burritt Cemetery, Winnebago. Visitation 5:00 p.m. to 7:00 p.m., Thursday, July 23, 2015, in the funeral home.
Read More