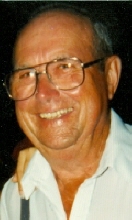 Obituary for Donald W. Sartorius
Hermitage, Tenn. - Donald W. "Cy" Sartorius, 91, a 16-year resident of Hermitage, and longtime Winnebago-Pecatonica resident died Sunday, January 18, 2015, in Tri Star Summitt Medical Center, Nashville, Tenn. Born October 19, 1923, in Freeport, the son of Fred and May (Yordy) Sartorius. He attended school in Winnebago. Donald married Margaret L. Hassel on November 26, 1942, in Kahoka, Mo.; she died May 8, 1990. He married Mary Frances Arnold on February 28, 1998 in Dewey, Ariz. Donald farmed for numerous years, and was employed by Smith Oil Corp. for 18 years, and then at the Winnebago County Courthouse for 11 years, retiring in 1985. He was a former member of the Winnebago Lions Club and a founding member of the Winnebago Fans Association. Donald was an avid Green Bay Packer and Duke Basketball fan, and enjoyed coaching little league baseball and pontooning on local rivers. He dearly loved watching his children, grandchildren and great-grandchildren play in all their sporting events.

Donald is lovingly survived by his wife, Mary Frances Sartorius of Hermitage; children, James (Priscilla) Sartorius of Winnebago, Jill (Dennis) Deckard of Pecatonica, Jeff Sartorius of Oregon and Jeri Beth (Mark) Heckman, of Pecatonica; grandchildren, Greg (Barbie) Doran, Mark (Marie) Doran, Michelle (Kelly) Cook, Kelly (Ron) Scott, Nicole (Brian) Diedrich, Jennifer Deckard Moore, Megan (Nate) Brent, Katy (Mike) Kelley and Jeffrey (fianc, Jordan Fischer) Sartorius; eight great-grandchildren; four stepgrandchildren; two stepgreat-grandchildren; and numerous nieces, nephews, cousins, and a host of friends. He was also predeceased by his daughter, Joanne Doran; son-in-law, Vince Doran; granddaughters, Amy Jo Doran and Kari Elizabeth Sartorius; brothers, George, Fritz, Harry, Bob and Harold Sartorius; and sisters, Frances Albertus and Edna Redenius.

Funeral Information

Service at 10:00 a.m. Monday, January 26, 2015, in Genandt Funeral Home, 602 N. Elida St., Winnebago, with the Rev. Steve Shullanberger, pastor of First Presbyterian Church, Winnebago, officiating. Burial in Twelve Mile Grove Cemetery in Pecatonica. Visitation 6:00 p.m. to 8:00 p.m. Sunday, January 25, 2015, in Genandt Funeral Home, 602 N. Elida St., Winnebago.
Read More