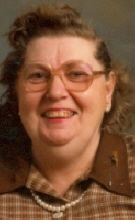 Obituary for Donna M. Laechelt
Pecatonica - Donna M. Laechelt, 86, of Pecatonica, died Saturday, March 2, 2013, in SwedishAmerican Hospital, Rockford. Born May 3, 1926, in Minnesota, the daughter of Mr. and Mrs. Arthur Sauer. Graduated from Stillman Valley High School in 1944. Donna married Edward L. Laechelt on September 19, 1948, in Amboy. Together they owned and operated C L Testing Service, a dairy herd records service, for 31 years, from 1947 to 1978. Donna was an active member of First Baptist Church, Pecatonica, for over 50 years, and the Pecatonica Garden Club. Her passion in life was spending time with her flower gardens and greenhouse and dearly loved her extensive travels in Australia and New Zealand.

Donna is lovingly survived by her daughters, Sherry Ann McCool of Kansas City and Linda Kay(Gerald) Larkin of Queensland, Australia; son, Wayne E. (Beverly) Laechelt of Sugar Grove; grandchildren, Amy (David) Berry of Indianapolis, Melissa (Duane) Kamstra of St. Cloud, Minn., Martha (Robert) Jones of Xenia, Ohio, and Nadeen and Brendan Larkin, both of Queensland; and six great-grandchildren. Predeceased by her parents; husband, Edward, on March 25, 1997; and daughter, Audrey Laechelt.

Funeral Information

Graveside service is at 1:00 p.m., Thursday, March 7, 2013, in Pecatonica Cemetery, with Pastor David Myers, of First Baptist Church, Pecatonica, officiating.
Read More