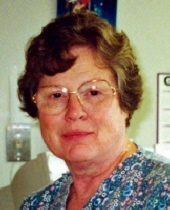 Obituary for Doris Ann Reamer
Winnebago - Doris Ann (Graham) Reamer, 73, of Winnebago, died Sunday night, September 21, 2008, in her home, surrounded by her loving family, after a short battle with cancer after 24 years of remission. Born August 29, 1935, in Fennimore, Wis., the daughter of Chester and Anna (Jensen) Graham. Doris married her schoolmate and lifelong friend Charles Reamer on April 18, 1959, in San Antonio, Texas, after a whirlwind romance that lasted the rest of their lives. She attended U.W. - Lacrosse, and was a registered medical technologist for 51 years. Doris spent the last 20 years of her career working for Rockford Health System, making friends of patients at Family Medical Clinic and the Perryville lab. She and Chuck ran Reamer Distributors, a successful dairy distributorship from 1963 until 2000. Together, they raised American Paint horses through R-Bar-Paints, in Winnebago, making friends across the Midwest at horse shows. Doris loved gardening, cooking and Wisconsin Badger sports.

Doris is lovingly survived by her husband, Charles Reamer of Winnebago; daughter, Rebecca (Rowland) Warrington of Rockford; son, Clark (Laura) Reamer of Dwight; grandchildren, Rachel and Ross Warrington and David and Brendan Reamer; sisters, Lorraine Fritch of Cobb, Wis., Evelyn (Clarence) Straka and Harriet (Herb) Brun, both of Fennimore, Eadie (Al) Felly of Mineral Point, Wis., Nancy (Sam) Severson of Blanchardville, Wis., and Mary Graham of Barneveld, Wis.; brother, Peter (Bonnie) Graham, Eaton, Colo.; sisters-in-law, Patti Graham of Barneveld and Doris Reamer of Pottsville, Penna.; and 27 nieces and nephews.

She was greeted in heaven by her parents; sister, Catherine Strang; brother Paul Graham; and brothers-in-law, Norbert Strang, Merlyn Fritch and David Reamer.

Funeral Information

Service is at 9:00 a.m., Friday, September 26, 2008, in Middle Creek Presbyterian Church, 12473 Montague Road, Winnebago, with visitation from 8:00 a.m. until service time; the Rev. Anita Stuart-Steva will officiate. Burial in Prairie Cemetery, in Fennimore, Wis. Visitation 5:00 p.m. to 8:00 p.m., Thursday, September 25, 2008, in Genandt Funeral Home, 602 N. Elida St., Winnebago.
Read More