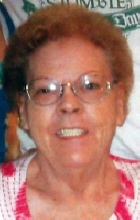 Obituary for Doris C. Schwartz
Winnebago - Doris C. Schwartz, 76, of Winnebago, died Monday, June 27, 2011, in her home, after a short illness. Born on July 17, 1934, in Rockford, the daughter of Clarence and Helen (DeCota) Cook. Graduated from Durand High School in 1952. Doris married Kimbert Schwartz on August 31, 1957, in Second Congregational Church, Rockford. She was a CNA at a couple nursing home, for 25 years. Doris enjoyed watching the Chicago Bulls and Cubs games.

Doris is lovingly survived by her husband, Kim, daughters, Pam (Max Casteel) Schnurr of Caledonia and Stacy (Lynn) Carver of Winnebago; grandchildren, Stephanie (Tom) Snyder of Pecatonica, Kim (Brian) Fish of Byron, and Kaleb Schwartz and Abbey Carver, both of Winnebago; great-grandchildren, Alex and Michelle Snyder and Brianna Fish; brother, Greg Cook of Arizona.

Doris was predeceased by her parents and son, Bruce Kim Schwartz on December 23, 1984.

Funeral Information

Service is at 12:00 p.m., Thursday, June 30, 2011, in Genandt Funeral Home, 602 N. Elida St., Winnebago, with visitation from 11:00 a.m. until service time; Pastor Tim Spickler, of Winnebago New Life Bible Church, Winnebago, will officiate. Burial in Pecatonica Cemetery.