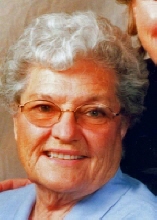 Obituary for Doris I. "Dodie" Farley
German Valley - Doris I. "Dodie" Farley, 77, of German Valley, died Wednesday afternoon, September 5, 2007, surrounded by her loving family, in her home, after a courageous battle with cancer. She was born December 13, 1929, in Milledgeville, the daughter of George and Blanche (VanDeventer) Poff. She graduated from Bradford High School in 1948. During WWII, Dodie played shortstop for Gorman's Little Deere's, in Bradford. Dodie married John Farley on October 17, 1948, in Boyd's Grove Church, in Milo Township. Together, they farmed in Bradford for eighteen years. Dodie was active in the leadership of 4-H and girl scouts. She obtained her cosmetology license in 1964. Dodie and her family moved to German Valley in 1969. She worked in the offices of FHN for several years, and during her retirement years was a volunteer at the German Valley Grade School, where she was lovingly referred to by all the students as "Grandma". Dodie was the recipient of German Valley Area's Most Valuable Person award in 2005. She also was an accomplished artist, working primarily with oils. Her world revolved around spending time with her family.

Dodie is lovingly survived by her husband of 59 years, John Farley of German Valley; daughters, Dawn (John) Prahl of Crystal Lake, Deidre Farley of Martinez, GA and Cindy (Jerry) Jacobs of German Valley; grandchildren, Anna Prahl of Crystal Lake and Jesse Jacobs of German Valley; sister, Anna Konneck of Nashville, TN; brothers, Robert (Anne) Poff of Riverton, WY and Russell (Minnie) Poff of Tiskilwa; several nieces and nephews and special friend, Joanne Bortniak of Vancouver, WA.

Dodie was predeceased by her parents; brother, Henry Poff and sisters, Midge Walters, Jeanne Fulk, and Janet Williamson.

Funeral Information

Service is at 3:00 p.m., Sunday, September 9, 2007, in Genandt Funeral Home, 145 Church St., German Valley, with visitation 1:00 p.m. until service time; the Rev. Diane Jochum, chaplain of FHN Hospice, in Freeport, will officiate. At Dodie's request, cremation rites were accorded. Graveside interment at 11:00 a.m., Monday, September 10, 2007, in Elm Lawn Memorial Park, in Princeton.
Read More