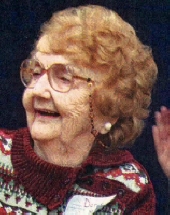 Obituary for Doris L. Mandeville
Mother, Grandmother, Great Grandmother, Teacher & Friend to Many

WINNEBAGO-Doris L. Mandeville, 96, of Winnebago, died Wednesday, Oct. 8, 2008 in Rockford Memorial Hospital, surrounded by her family. Born in Bloomington, on Nov. 20, 1911 to Ehud and Emma LaMaster. They moved to Keokuk, Iowa when she was four years old. Doris loved growing up and going to school in this town on the Mississippi River. At sixteen, they moved to Mendon, Ill., where she graduated from high school. Doris graduated from Illinois State Normal University in 1933 with a degree in physical education; she was a campus leader and the first queen of the Gamma Circus.
She taught physical education at Welsh School in Rockford for five years. On March 5, 1938, Doris married Thomas E. Mandeville and moved to the Mandeville farm at Westfield Corners, south of Winnebago. She stayed home to lovingly raise three children. After the Mandeville home burned in 1949, Doris returned to teaching fifth grade at Winnebago Grade School for five years, and then transferred to McIntosh Elementary School and Wilson Junior High in Rockford and taught fifth and sixth grade for fifteen years. She retired from teaching in 1977 after 30 years. Over the years, former students contacted Mrs. Mandeville to express the positive effect that she had on their lives.
She was a former member of the Westfield Young Mother's Club, the Westfield Grange, the Atwood Golf Association, and a lady's bridge club that met for over 50 years; volunteered at Rockford Memorial Hospital as a pink lady for 10 years, often at the front desk; and was a member of the Middle Creek Presbyterian Church, Winnebago Farm Bureau, and the Winnebago Women's Club.
Doris is lovingly survived by children, Martha (Larry) Kirsch of Bolingbrook, Thomas (Donna) of Sendai, Japan and Michael (Diane) of Bloomington; 12 grandchildren, Deborah (Peter) Freischlag, Downers Grove, J. Douglas (Sharon) Rees, Aurora, Brian (Carey) Rees, Bend, Ore., Kristine (Brian) Stewart, Bloomington, Lori (Dejuan) Davis, Bloomington, Shannon (Scott) Williamson, Clinton, Michelle (Joe) Aipa, Waimanaio, Hawaii, Lisa (Perry) Mandeville, Jakarta, Indonesia, Matthew Mandeville and Naomi (Tai) Ishida, both of Tokyo, Japan, Kevin (Yukari) Mandeville, Rocklin, Calif., Suzanna Mandeville, Glendale, Calif.; and 25 great-grandchildren. Throughout the years, she had close relationships with each out-of-town family member, always remembering birthdays and writing encouraging letters. Members of the family gathered on the Mandeville Farm in the summer for the annual "Mandeville Roundup" and on Christmas Eve for a traditional ham loaf dinner. Each Christmas she would read her poem originally written in 1986 called "The Gathering" where she reminded us "to love in order to be loved, keep our family ties strong, unselfish, unfailing and always be mindful of the blessings that God has granted us."
Predeceased by her parents, stepmother, Vivian "Vee" LaMaster who adopted her late in life; brother Duane "Jack,"; sister, Vida; and her husband, Thomas Earl, who died in 1974. Special thanks to Dr. Jon Monkemeyer, The Neighbors Nursing Home and helpers Mary, Linda, Angie and Sara for their care over the years.

Funeral Information

Celebration of Doris's life will be held at 11 a.m. Tuesday, Oct. 14, in Middle Creek Presbyterian Church, 12473 Montague Road, Winnebago, with the Rev. Anita Stuart-Steva officiating. Private interment in Winnebago Cemetery. Visitation from 4 to 7 p.m. on Monday, Oct. 13, at Genandt Funeral Home, 602 N. Elida St., Winnebago.
Read More