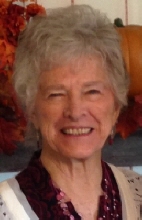 Obituary for Doris M. Franklin
Rockford - Doris M. McDougall Franklin, 84, of Rockford, died Saturday, May 2, 2015, in her home, following a lengthy illness. Born October 28, 1930 in Los Angeles, Calif., the daughter of Ronald and Florence (Heathman) Dickerson. Attended Pecatonica High School and graduated from Hononegah High School in 1948. Doris married Duane McDougall on January 1, 1949, in Burritt Community Church. He died November 17, 1976. She then married Glenn A. Franklin on December 21, 1979, also in Burritt Community Church. Doris obtained her real estate brokerage license and sold real estate for several years. She was a longtime faithful member of Burritt Community Church and its Bible study groups. Doris also was a member of the Winnebago County Home Extension, the Birthday Club, and Garden Club. She enjoyed traveling all over, wintering in south Florida and then eastern Tennessee. A true farmwife, with an open home, Doris dearly loved cooking for all the family gatherings, pot-lucks and for families of need. She loved her collections, including Longaberger baskets, nativity scenes and teapots, hosting annual tea parties.

Doris is lovingly survived by her husband, Glenn; children, John (Mary Jo) McDougall of Waukesha, Wis., Brad (Kathy) McDougall of Knoxville, Tenn., Jim (Micki) McDougall of Townsend, Tenn., Kathy Schryver of Rockford and Dave (Susan) Franklin of Del Ray Beach, Fla.; grandchildren, Jason, Matt, Hannah, Mike, Ben, Noah, David, Lisa, and Daniel; nine great-grandchildren; sisters, Darlene (Gordon) Walstrom and Diane (Bill) Kahl; brother, Delbert (Paulette) West; brother-in-law, Roger (Bette) McDougall; and numerous nieces and nephews. She also was predeceased by her parents and brother, Donny Dickerson.

Doris's family would like to give special thanks to Heartland Hospice and to her Burritt Community neighbors and friends for their loving care and support.

Funeral Information

Service at 11:00 a.m. Saturday, May 9, 2015, in Genandt Funeral Home, 602 N. Elida St., Winnebago, the Rev. Larry Moody, pastor of Burritt Community Church, Rockford, officiating. Burial in North Burritt Cemetery, Winnebago. Visitation 4:00 p.m. to 7:00 p.m., Friday, May 8, 2015, in the funeral home.