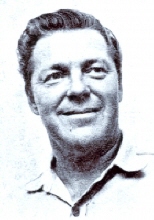 Obituary for Dorman D. Meyers
Winnebago - Dorman D. Meyers, 83, of Winnebago, died peacefully after a short and valiant battle with kidney cancer on Friday, Feb. 15, 2013, at the Community Living Center (Hospice), Middleton Memorial Veterans Hospital, Madison, Wis. Born Nov, 26, 1929, in Seward Township, the son of Sebe and Pearl (Denekas) Meyers, and lived in Winnebago all his life. He and his parents struggled through the Great Depression to save their family farm. Served 1951-1953 in the U.S. Army in Korea, where he spent 9 months on the line. Basic training at Fort Leonard Wood. Honor Guard in the States. Earned G.E.D. during military service. Employed as a pipe-fitter at National Lock in Rockford, 1946-1981. Bought/sold scrap metal, farm equipment, and antiques. Enjoyed attending auctions, professional wrestling matches, car races, and concerts. Loved spending time with his many friends at restaurants and coffee shops, especially Sullivan's, Cuppa Java, McDonald's, Mr. C's and Johnny Pamcakes. Special thanks to Kathy Heeren-Ellis, Linda Black, and GG Construction.

Survived by son, Gregory Meyers; daughter, Sharon (Brad) Whitlock; granddaughters, Evangeline Whitlock and Charity (Jon) Hendrickson; cousin, Robert (Edna) Denekas, and other extended family. Predeceased by his parents and wife, Ruby Meyers.

Funeral Information

Service at 1:00 p.m., Monday, February 25, 2013, in New Life Bible Church, Route 20 at Hoisington Road, Winnebago, with Pastor Gary Turner and the Rev. Steve Shullanberger of First Presbyterian Church, Winnebago, officiating. Cremation rites have been accorded. Visitation 2:00 p.m. to 5:00 p.m., Sunday, February 24, 2013, in Genandt Funeral Home, 602 N. Elida St., Winnebago.
Read More