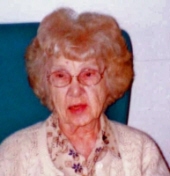 Obituary for Dorothea Mary Patrick Cooksey
Cherished Mother, Grandmother and Great-grandmother

Rockford - Dorothea Mary Busack Patrick Cooksey, 100, of Rockford, died Friday evening, August 3, 2007, in River Bluff Nursing Home, Rockford. She was born June 7, 1907, in Pecatonica Township, the daughter of Paul and Ann (Nelson) Busack. A 1925 graduate from Rockford High School, she lived in the Winnebago and Rockford area all her life. Dorothea married Samuel Patrick on June 30, 1925, in Middle Creek Presbyterian Church, Winnebago. He died July 6, 1975. Dorothea married Herman Cooksey on May 3, 1980 in Middle Creek Presbyterian Church. He died February 14. 1988. She was employed as a secretary by Weises and then by Amerock. Dorothea was an active member of Middle Creek Presbyterian Church, having been the first female elder of the church. She was a former associate member of Westminster Presbyterian Church in Rockford and DAR. Dorothea enjoyed geneology and gardening, especially growing African violets; up to 30 plants at one time. She also enjoyed traveling; having been to Alaska twice, the second time with Sally Mayo to Nome; and also in Austria and Germany. Her family and friends knew Dorothea as a caring and easy-going person.

Dorothea is lovingly survived by her daughter, Pauline (Robert) Lawhorn of Rockton; son, Maurice (Sally) Patrick of Rockford; grandchildren, Robert (Amy) Phelps and Judith Heinschel, both of Rockton, Maureen (Keith) Myers, Susan Jacobson, Terry (Julie) Patrick, Craig Patrick, and Jodie (Tyrone) Bell, all of Rockford; great-grandchildren, Sarah Phelps of Maryland and Daniel Phelps of Normal, Teke Heinschel of Rockton, and Ben Myers, Melissa and Jessica Jacobson of Rockford and Shawn and Sara Patrick, all of Rockford, and several nieces and nephews.

Dorothea was also predeceased by her parents; daughter, Judith V. Patrick, in 1939; sister, Elizabeth Reber and brother, Ben Busack.

Funeral Information

Service 10:00 a.m. Wednesday, August 8, 2007 in Middle Creek Presbyterian Church, 12473 Montague Rd., Winnebago, with the Rev. Donna L. Wrzeszcz officiating. Burial in Winnebago Cemetery in Winnebago. Visitation 6:00 p.m. to 8:00 p.m. Tuesday, August 7, 2007 in Genandt Funeral Home, 602 N. Elida St., Winnebago.
Read More