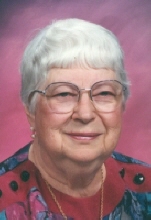 Obituary for Dorothy E. Clikeman
Beloved Mom

Winnebago - Dorothy E. Clikeman, 95, of Winnebago, died Wednesday, June 18, 2014, in her home, surrounded by her loving family, following a lengthy illness. Born November 6, 1918 to William and Mabel (Crowley) Stauffer, in Durand. Attended Sweet School, graduated from Durand High School, Class of 1936. Attended Metropolitan Business College and worked in the office of Barnes Drill. Dorothy married Wayne Clikeman on September 12, 1940. Together they dairy farmed on Centerville Road for 20 years from 1945 to 1965. Upon retiring from farming, they built a house in Winnebago. While raising her children, she was a stay-at-home mom. Dorothy returned to work as a secretary at Singer Mental Health Center for 17 years, retiring in 1984. She was involved in community affairs including Centerville Community Club, 4-H, Winnebago schools, Westfield Grange and Winnebago County Home Extension. Dorothy was a 60-year member of Middle Creek Presbyterian Church, Winnebago, having served as organist for 40 years, and was a member of its Mariners Club, Mary and Martha Circle and Bell Choir. She had a lifelong involvement in music and enjoyed many crafts and hobbies; her main interest was sewing and quilting. Dorothy was a charter member of the Sinnissippi Quilt Club and was an active member of the Kindred Heart Stitchers at church. She made many prize winning quilts and her family and friends have many handmade items which will be a reminder of her for years to come. She loved all animals, especially her two dogs, Daisy and Holly.

Dorothy is lovingly survived by her children, Diane (Keith) Miller of Harrison, Nathalie (Robert) Lyford of Poplar Grove, David (Linda) Clikeman of Elkhorn, Wis., Marcia Lyford of Rockford and Gayle Clikeman of Winnebago; 17 grandchildren, 33 great-grandchildren; 13 great-great-grandchildren; brother Russell Stauffer of Rockford; sister, Barbara Stauffer of Rockford; and several nieces and nephews. She was predeceased by her parents; husband, Wayne, on September 28, 1974; brother Donald (Evelyn) Stauffer; sister, Mildred (Glen) Carlson; and beloved aunt, Olive Crowley.

Funeral Information

Service is at 11:00 a.m., Saturday, June 21, 2014, in Middle Creek Presbyterian Church, 12473 Montague Road, Winnebago, with visitation from 9:00 a.m. until service time; the Rev. Anita Stuart-Steva will officiate. Burial in Middle Creek Cemetery, Winnebago.
Read More