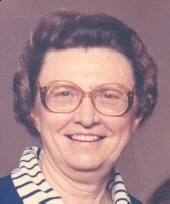 Obituary for Dorothy M. Harrington
Pecatonica - Dorothy M. Harrington, 88, of Pecatonica, died Tuesday night, December 1, 2009, in Stephenson Nursing Center, Freeport. Born August 9, 1921, in Forreston, the daughter of William and Sophie (Martens) Greenfield. Graduated from Forreston High School, received her teaching certificate at the age of 19, from Northern Illinois University, then while teaching, obtained her Bachelor of Science degree in education, Master of Science degree in education, plus 30 hours towards her doctorate. During the summers of 1943 and 1944, due to WWII, was a supervisor at Blackhawk Engineering, inspecting the ogive on large bullets. Married Lem H. Harrington on July 6, 1946, in Prairie Dell Presbyterian Parsonage, rural Shannon. Having taught 46 years, she began at Cranes Grove for 2 years, 3 years in Loves Park, and over 30 years for the Rockford School District with 30 years specifically at Evergreen School, teaching first grade to second generation and some third generation children, besides her own children. Member of Winnebago County Farm Bureau. She was many things to many people: daughter, sister, farmer's wife, mother, teacher and friend. Wife and mother were most important to her. Having a strong spiritual belief, she believed in hard work and family ties, family traditions and her country.

Dorothy is lovingly survived by her daughter, Karen (Rick) Hardin of Sonoita, Ariz.; sisters, Berniece (Albert) James and LaVonne (Dean) Wolf; brother, George (Kathy) Martens; sister-in-law, Marion Greenfield; and numerous nieces and nephews.

She was predeceased by her husband on November 15, 1991; son, El Harrington on October 27, 2005; brothers, Herman, Jim, Lester, and Henry Greenfield; sisters, Pearl Fieselman, Bertha Harms, Hilda Eckelbacher, and Ruth Holcomb.

Funeral Information

Service is at 11:00 a.m., Monday, December 7, 2009, in Seward Congregational Church, Seward, with the Rev. Ronald C. Farb officiating. Burial in Twelve Mile Grove Cemetery, Pecatonica. Visitation 2:00 p.m. to 4:00 p.m., Sunday, December 6,, 2009, in Genandt Funeral Home, 602 N. Elida St., Winnebago.
Read More