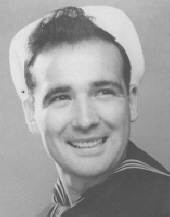 Obituary for Duane E. Myers
Proud U.S. Navy Veteran and Pearl Harbor Survivor

Winnebago - Duane E. Myers, 91, of Winnebago, died Friday, May 31, 2013, in Highview in the Woodlands, Rockton, after living a great life. Born October 23, 1921, in Johnstown, N.D., the son of John and Minnie (Clelland) Myers. Served in the U.S. Navy from September 11, 1940 to November 11, 1946, during WWII, in the Asiatic Pacific area, stationed on the USS Maryland on December 7, 1941, and was a Pearl Harbor survivor. Duane married Mary Ann Jacoby on December 19, 1943, in Rockford. He was an area foreman for Commonwealth Edison, retiring after 41 years. Duane was a Past Master of the Star in the East Lodge No. 166, Rockford. He enjoyed golfing, never using a golf cart, walking each course.

Duane is lovingly survived by his wife, Mary Ann, children, Patricia (Jack) Carlson of Chandler, Ariz., Michael Myers of Rockford and Toby (Robin Baker) Myers of Capron; grandchildren, Heidi (Steve) Hyson, Christine (George Schaffer) Carlson, Nikki (Shon) Stanton, Bekki (Eric) Hammann and Melissa Myers; great-grandchildren, Josh, Briana, Jordan, Roghn, Rhyder, Weston, Campbell, Cooper, Walker and Madyson; great-great-grandchildren, Kyler, and baby girl, Teegan, to come. Predeceased by his parents and brother, Marvin D. Myers.

Funeral Information

Service is at 11:00 a.m., Wednesday, June 5, 2013, in Genandt Funeral Home, 602 N. Elida St., Winnebago, Bill Cook, Sr. will officiate. Burial in North Grove Christian Cemetery, Leaf River. Visitation 5:00 p.m. to 7:00 p.m., Tuesday, June 4, 2013, in the funeral home, with Masonic Rites at 7:00 p.m.