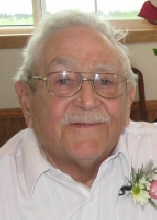 Obituary for Duane Leslie Fay
Winnebago - Duane Leslie Fay, 87, of Winnebago, died Friday morning, January 7, 2011, in Prairie View Assisted Living Community, Winnebago. He was born February 10, 1923 in Fredericksburg, Iowa the son of Leslie E. and Helen L. (Gill) Fay. Duane attended a one-room school for six years in Bremer County, Iowa and graduated from Randalia High School in 1940. He was a veteran of the US Army serving from January 17, 1945 to November 26, 1946. Duane married Marilyn M. Whitmore on October 15, 1949, in First Presbyterian Church; she died on November 8, 1969. Duane then married Florence A. Fetter Keres on October 27, 1973, in First Presbyterian Church; she died on August 25, 2008. He was a carpenter for 33 years with McGee Sons of Winnebago, and self-employed as a carpenter-contractor for 20 years retiring January 1, 2000. Duane was a member of First Presbyterian Church serving terms as an elder and trustee, and was in the church choir since 1941. He was active with Boy Scouts serving on district, council and staff of the National Jamboree in Idaho. He was a 25-year member of the Phantom Regiment in Rockford as driver and cook, and was a member of V.F.W. Post 8416 of Pecatonica. Duane was a volunteer fireman 30 years for the Win-Bur-Sew fire department retiring as an assistant chief in 1982.

Duane is lovingly survived by his son, Leslie P. (Gwen) Fay of Winnebago; stepdaughters, Neva J. Keres, overseas with the Peace Corp and Kimberly J. (Bruce) Keres Hall of Los Altos Hills, Calif.; nine grandchildren; seven great-grandchildren; sister, Marion Kieler of Dubuque, Iowa; and many nieces and nephews. He was also predeceased by his father, Leslie Fay on February 15, 1949; mother, Helen (Fay) Repka on November 8, 1986; brother, Donald Fay on June 21, 1991; sisters, Joyce Donker on May 12, 2001 and Jean Moore in 2010; and stepson, Leslie "Jack" Keres on January 6, 2008.

Funeral Information

Service 11:00 a.m. Friday, January 14, 2011, in the First Presbyterian Church, 208 W. Winnebago St., Winnebago, with the Rev. Steve P. Shullanberger officiating. Burial in Willwood Burial Park, Rockford. Visitation 5:00 p.m. to 7:00 p.m. Thursday, January 13, 2011, in Genandt Funeral Home, 602 N. Elida St., Winnebago.