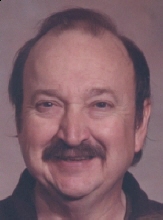 Obituary for Dwight O. Faulkner
Byron - Dwight O. Faulkner, 55, of Byron, died Friday night, November 20, 2009, in his home, after a courageous battle with cancer. Born August 31, 1954, in Rockford, the son of Harold T. and Marietta A. (Bradway) Faulkner. Graduated from Byron High School in 1972. Married Shirley Mullen on June 6, 1981, in Byron; later they divorced. Employed as a maintenance mechanic for 19 years at Anderson Packaging, Rockford, whose employees were like family to him.

Dwight is lovingly survived by his children, Alexes and Duston Faulkner of Winnebago; two stepbrothers; and several nieces and nephews.

He was predeceased by his parents and brother, Delbert Faulkner.

Funeral Information

Graveside Service is at 11:00 a.m., Wednesday, November 25, 2009, in Winnebago Cemetery, Westfield Road, Winnebago, with the Rev. Steve P. Shullanberger, pastor of First Presbyterian Church, Winnebago, officiating. Visitation 5:00 p.m. to 7:00 p.m., Tuesday, November 24, 2009, in Genandt Funeral Home, 602 N. Elida St., Winnebago.