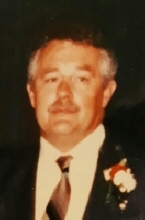 Obituary for E. Duane Hazzard
Seward - E. Duane Hazzard, 71, of Seward died early morning on Friday, December 30 2016 in the Serenity Hospice and Home near Oregon with his loving wife Debbi by his side. Born March 27, 1945 the son of Earl L. and Marguerite E. (Whitney) Hazzard. He graduated from Winnebago High School in 1963 and earned a Bachelor of Science degree in Agricultural Economics from Southern Illinois University in Carbondale in 1967. Duane married Sharon Anderson in 1966 and they had three children together Dana, Daniel and June. Duane married Debbi (Carey) Harleman on July 4, 1991 in Seward and last year they celebrated their 25th wedding anniversary. They were best friends and partners-in-crime in life. Duane happily adopted Debbis daughter Erin at the time of their union. Duane and Debbi were blessed with 30 years of life together.

Duane was curious, insightful and always the philosopher. He loved to debate politics and discuss the purpose of life. He will be remembered for weekend breakfasts with family and friends; his love of flight and airplanes; his love of all animals and most of all for his doting love on all of his grandchildren. Duane farmed his entire life in the Seward and Winnebago area and was ahead of his time in the process of no-till farming. He could always be found with his dogs or roaming the countryside in an old vehicle with one of his road sodas. He became a great advocate of medical marijuana and understood the deep impact it could have on terminally ill patients and on pain control.

Duane is survived by his wife, Debbi Hazzard; children, Dana (Gun Kim) Hazzard, Daniel (Kari) Hazzard and their children Caroline and Katherine, June Hazzard and her children Madeline Lindquist, Will Tomlinson and Michael Tomlinson, Erin Hazzard and her children Rayna and Kingston, Ryan Harleman and his children Devon and Kayla, Eric (Trisha) Harleman; siblings Karen Franken, Kenneth Hazzard, Denise OHara; sister-in-law Deanna Hazzard; several nieces and nephews.

Duane is predeceased by his parents; brother David Hazzard; brother-in-law Dave Franken; sisters-in-law, Genise (Hilton) Hazzard, Sue (Anderson) Snell; son-in-law Bill Tomlinson; former wife Sharon (Anderson) Hatton.

The family wishes to thank the compassionate staff at the Serenity Hospice and Home and especially Valerie Rowland who became a very special friend.

Funeral Information

Funeral service 11:00 a.m. Saturday, January 7, 2017, in Genandt Funeral Home, 602 N. Elida St., Winnebago with Pastor Tim Spickler of New Life Bible Church near Winnebago officiating. Cremation rites to follow the funeral service. Visitation 5:00 p.m. to 7:00 p.m. Friday, January 6, 2017 in the funeral home.
Read More