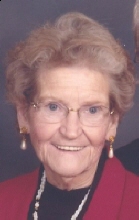 Obituary for Earnestine "Earnie" Curtis Daily
Pecatonica - Earnestine "Earnie" Curtis Daily, 80, of Pecatonica, died Thursday, August 19, 2010, in Monroe Manor, Monroe, Wis., after suffering many years with health problems. Born July 4, 1930, in Earle, Ark., the daughter of Sonnie Alonzo and Otie (Wilkerson) Spradling. She married Cecil Curtis on September 25, 1948; he past away on January 1, 1990. Earnie married Melvin L. Daily on May 20, 2000, in Middle Creek Presbyterian Church. She was an assembler at Atwood's for many years and an active member of Middle Creek Presbyterian Church. Loving life, Earnie enjoyed playing with her best buddy, Charley, her dog; being out in the sun, watching the birds; traveling, especially to Florida; going to church, and out to eat; playing cards at Westfield Grange; and reading and working word puzzles. She was loved by everyone.

Earnie is lovingly survived by her husband, Mel Daily; daughter, Nancy (Bill) Swanson of Rockford; grandson, Michael (Phoebe) Swanson of Las Vegas; great-grandchildren, Zachary, Abbi and Megan Swanson; brother, Billy Ray (Betty) Spradling of Granite City; sisters; Esther (Gerald) Kertz of St. Genevieve, Mo., and Dorothy Robinson of Webster Groves, Mo.; and several nieces and nephews. She was also predeceased by her parents; and brother and sister-in-law, Harvey and Glenda Spradling.

Funeral Information

Service is at 1:00 p.m., Monday, August 23, 2010, in Genandt Funeral Home, 602 N. Elida St., Winnebago, with the Rev. Anita Stuart-Steva, pastor of Middle Creek Presbyterian Church, Winnebago, officiating. Burial in Willwood Burial Park, Rockford. Visitation 5:00 p.m. to 7:00 p.m., Sunday, August 22, 2010, in the funeral home.