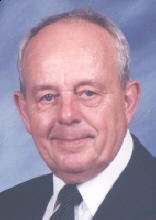 Obituary for Edward LaVerne Waufle
Loving Husband, Dad, Papa & Mr. Nice Guy

Winnebago - Edward LaVerne Waufle, 85, of Winnebago, died Thursday morning, June 3, 2010, in Rockford Memorial Hospital, with his family at his side. Born September 9, 1924, in Rockford, the son of George and Frieda (Lenius) Waufle. Attended Lane Tech in Chicago, and graduated from Harlem High School in 1943. Served as corporal in the US Army from May 18, 1943 through December 19, 1945, during WWII. While in the service, he attended Oklahoma A M. Ed married Audrey Hassel on March 6, 1954, in Redeemer Lutheran Church, Rockford. He was an industrial engineer at several local companies and upon leaving that industry became self-employed, operating Ed Waufle Building Maintenance Services. Ed was an active member of St. John Lutheran Church, having served nearly 23 years as elder, and was affiliated with the formation of Risen Savior Lutheran Church, Winnebago. He enjoyed all outdoor activities, including fishing, hunting, boating, and traveling; besides supporting all Winnebago High School extra-curricular activities.

Ed is lovingly survived by his wife, Audrey Waufle, daughters, Jody Fay and Jayme Turman; grandchildren, Maisie (Eduardo Sanchez) Fay, Tyler, Tori (Caro Henson) and Tessa Turman, all of Winnebago, and Troy (Brynn) Turman of Rockford; foreign exchange student daughter, Dr. Karin (Dr. Peter Karlsson) Lindelow and children, Eva and Fredrik of Malmo, Sweden; brother-in-law, Donald (Mary Frances) Sartorius; sister-in-law, Edna Hassel.; many nieces, nephews and cousins; dear friend, Harry Janecek; and all of his coffee shop friends. He was predeceased by his parents; brother-in-law, Donald Hassel; and sister-in-law, Margaret Sartorius.

Funeral Information

Service is at 2:00 p.m., Monday, June 7, 2010, in St. John Lutheran Church, 1301 N. Jackson St., Pecatonica, with the Rev. Terry L. Theiss and the Rev. Robert H. Rub, Jr., of Risen Savior Lutheran Church, co-officiating. Burial in Winnebago Cemetery. Visitation 5:00 p.m. to 8:00 p.m., Sunday, June 6, 2010, in Genandt Funeral Home, 602 N. Elida St., Winnebago.
Read More