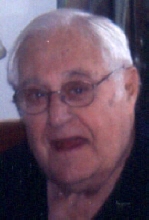 Obituary for Edward Wray Barrick
Loving dad and grandpa

Winnebago - Edward Wray Barrick, 87, of rural Winnebago, died unexpectedly Friday morning, June 23, 2006, in his home. Born January 28, 1919, in rural Winnebago, the son of Harry and Lucile (Meredith) Barrick. Graduated from Winnebago High School in 1937. Edward served in the U.S. Army during WWII. He farmed until he went into the farm implement business, Rock-Ford Tractor, in Pecatonica. Edward married Iline Johnson on March 27, 1948, in Rockford. She died on January 8, 1980. He married Jane McGee on September 28, 1984, in Dubuque, Iowa. Edward enjoyed gardening, reading, traveling, watching sports and baking cookies for his grandchildren.

Edward is lovingly survived by his daughters, Sandra Shaul of Burnsville, Minn., Janet Barrick of Winnebago and Karyl (Gary) Hughes of Pecatonica, grandchildren, Nicole Hughes of Durand, Kimberly Hughes of Pecatonica and Brent Shaul of Burnsville, and life-long friends, Doral and Lois Falconer.

Edward was also predeceased by his wife, Jane Barrick on April 22, 2000, brother, Dr. Robert M. Barrick and sister, Barbara Jane Williams.

Funeral Information

Service is at 11:00 a.m. Monday, June 26, 2006, in Genandt Funeral Home, 602 N. Elida St., Winnebago, with visitation from 10:00 a.m. until service time; the Rev. Steve P. Shullanberger, pastor of First Presbyterian Church, in Winnebago, will officiate. Burial in Winnebago Cemetery, in Winnebago.