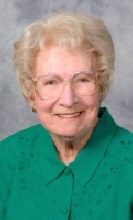 Obituary for Eleanor M. Sass
Winnebago - Eleanor M. Sass, of Winnebago died peacefully Monday, February 17, 2014, in SwedishAmerican Hospital, Rockford, after a brief illness. Born May 26, 1915, in Seward, the daughter of Wilson and Inez (Huff) Cleveland. Graduated from Seward High School and then Leaf River High School in 1933. She attended one year at Illinois State University in Normal. Eleanor married Wayne R. Sass on September 12, 1936 in Seward. She was employed at various places over the years, and then was a cook at River Bluff Nursing Home for eight years, retiring in 1981. Eleanor was an active member of First Presbyterian Church, having served as a former deacon, its Dorcas Circle and fellowship supper club; the Westfield Community Center; and Winnebago card club. She enjoyed doing and teaching ceramics, gardening, playing cards and most of all being with family.

Eleanor is lovingly survived by her son, Roger (Paula) Sass of Rockford; daughter, Donna (Robert) Reber of Crystal Lake; grandchildren, Shari (Patrick) Daw of Evanston, Brian (Rebecca) Reber of South Elgin, Kristine (Keith) Carey of Rockford, Paulette (Frank) Caniano of Rockford and Mitzi (Augie) Magdziarz of Roscoe; great-grandchildren, Matt and Kate Daw, Meredith Reber, Jake and Dillon Carey, Marissa and Nicholas Caniano, Brooke (Mike) Peterson, Kyla Abramson, Stephanie (Doug) Suhr and Matthew (Jessica) Magdziarz; four great-great-grandchildren; sister, Elva Cunningham of Tucson, Ariz.; and several nieces and nephews. She was predeceased by her husband, Wayne Sass on October 12, 1996; infant daughter, Sandra Sass; infant grandson, Todd Sass; brother, William (Margie) Cleveland; half-brothers, Vernon, Roy, Merlyn and Lesley Cleveland; half-sisters, Mildred Johnson and Blanche Lawson; and brother-in-law, Don Cunningham.

Funeral Information

Service is at 11:00 a.m. Saturday, February 22, 2014, in Genandt Funeral Home, 602 N. Elida St., Winnebago, with visitation at 10:00 a.m. until service time; the Rev. Steve Shullanberger, pastor of First Presbyterian Church, Winnebago, will officiate. Burial in Twelve Mile Grove Cemetery, Pecatonica.