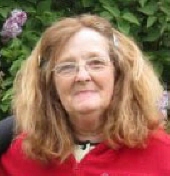 Obituary for Elizabeth S. Kellems
Rockford - Elizabeth "Liz" S. Kellems, 62, of Rockford, died Friday, March 1, 2013, in Provena St. Anne Center, Rockford, surrounded by her loving family, after a courageous battle with cancer. Born May 24, 1950, in Tuscola, the daughter of Raymond and Susie (Knight) Massie. Graduated from Villa Grove High School in 1968. Though not having a lot of money growing up, Liz was blessed to have a mom who instilled the importance of faith and salvation; saying her daily prayers for her family. Our mom was a devoted Christian who was saved, with a strong faith in Jesus Christ, giving her and her family hope and assurance of her new home in heaven. She was a dedicated member of First Baptist Church of Pecatonica, and dearly loved her church family. If our mom was not at home, she was garage saling, flee-marketing, or "treasure hunting". Her grandkids were a huge part of her life, and she was looking forward to her future grandchildren.

Mom is lovingly survived by her children, Kim (Kevin) Wiegers, Vicki (Jeff) Robinson, James (Jenna Busick) Thompson, Carrie (Martin Cosio) Thompson, Stacy (Casey) Mayberry and Merri (Nate Rebelak) Kellems; 15 grandchildren; brothers, Larry, Hershel, Drew, Bob, Porter and Rod; sisters, Martha, Sherry and Kathy; numerous nieces and nephews; dear friends, Anita Elsner, Diane and Gene Archer, and Myrtle Gene Rebelak. Predeceased by her parents; brother, Ed; sister, Mary; nephew, J.R.; and great-niece, baby Robin.

Funeral Information

Service is at 7:00 p.m., Tuesday, March 5, 2013, in Genandt Funeral Home, 602 N. Elida St., Winnebago, with visitation from 5:00 p.m. until service time; Pastor David Myers, of First Baptist Church, Pecatonica, will officiate. Graveside service 2:00 p.m., Wednesday, March 6, 2013 in Antioch Hugo Cemetery, Tuscola.