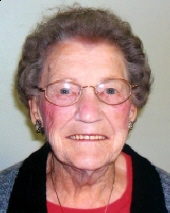 Obituary for Ella M. Stacionis
Beloved Aunt

Rockford - Ella M. Stacionis, 95, of Rockford, past away Saturday morning, July 3, 2010, after a sudden illness. Born October 28, 1914, in Holcomb, a triplet of Fred and Emma (Poliska) Schumacher. Ella married Anthony J. Stacionis on May 21, 1950, in Rockford. Retired from National Lock Company after 28 years of service and was a former part-owner of Cherry Bowl Lanes. Ella enjoyed watching all sports, especially her husband bowling, and was an avid Chicago Cubs, Bulls and Bears fan.

Ella is lovingly survived by sister, Lucille Bain of Davis Junction; brother, Ellsworth Schumacher of Chana; sister-in-law, Myrla Schumacher of Byron; special nieces, Janice (Bill Bliss) Olson of Belvidere and JoAnne (Dennis) Shearer of Davis Junction; numerous other nieces and nephews; and dear care-giver, Irena Golebicka.

She was predeceased by her husband, Tony, on June 18, 1997; triplet sisters Eva Luepkes and Esther Swanson; sisters, Alva Peterson, Frieda Brown, and Rose Terviel; brothers, Alfred, Ralph, Clarence, Ross, Lester and Harold; and great-niece Tammy (Shearer) Wetzel.

Funeral Information

Service is at 11:00 a.m., Tuesday, July 6, 2010, in Genandt Funeral Home, 602 N. Elida St., Winnebago, with visitation from 10:00 a.m. until service time; the Rev. Steve P. Shullanberger, pastor of First Presbyterian Church, Winnebago, will officiate. Burial in Willwood Burial Park, Rockford.
Read More