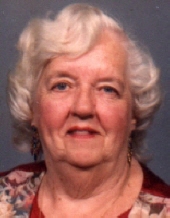 Obituary for Erliss Kruse
Beloved mother and grandmother

Pecatonica - Erliss Kruse, 82, of rural Pecatonica, died Monday morning, February 20, 2006, in Alden Alma Nelson Subacute, Rockford, after a short illness. Born August 26, 1923, in Rockford, the daughter of Victor and Edith (Anderson) Ekstrom. Graduated from East High School, Rockford, in 1942. Upon graduation, she was employed at Sundstrand Corp., Rockford, as a switchboard operator, besides other duties, for five years. Erliss married Walter C. Kruse on February 21, 1948 in Zion Lutheran Church, in Rockford. Together, they farmed in the German Valley/Seward area for 20 years. She was an active member of Silver Creek Reformed Church. Erliss loved antiquing, including refurbishing and merchandising the antiques.

Erliss is lovingly survived by her sons, Daryl Kruse of Winterville, N.C., Dale (Rita) Kruse of German Valley and Ritchie Kruse of Ridott, grandchildren, Amy and Alex, Jeff, Bradley and Kacie, and Shannon and Tracie, great-grandchildren, Donovan and Sadie, sister, Doris (Jerry) Julin of Rockford, two nieces and one nephew.

Erliss was predeceased by her husband, Walter Kruse on May 13, 2005 and grandson, Michael Kruse on November 7, 1992.

Funeral Information

Service at 11:00 a.m. Friday, February 24, 2006, in Silver Creek Reformed Church, 326 S. Bunker Hill Road, German Valley, with visitation from 10:00 a.m. until service time. The Rev. Randall P. Knoll will officiate. Burial in Silver Creek Cemetery, in German Valley.
Read More