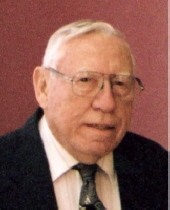 Obituary for Ernest C. Holtz
At Home With The Lord

Rockford - Ernest C. "Ernie" Holtz, 96, of Rockford graduated into the presence of the Lord on Sunday, January 29, 2012, from Fairhaven Health Center, Rockford. Born on February 23, 1915, in Muscatine, Iowa, the son of John and Gertrude (Sywassink) Holtz. Graduated from Muscatine High School in 1933. Ernest married Margaret Esther Toborg on November 25, 1943, in Muscatine. He served in the U.S. Army from August 12, 1941 to December 11, 1945, as technical sergeant, during WWII. Ernie worked at Rockford Furniture Factory, and then worked for Commonwealth Edison, retiring in 1980. He was an active long-time member of Memorial Baptist Church, a faithful board member of Child Evangelism Fellowship for many years, a member of the Beekeeper's Association, and oversaw the building projects of several churches. Ernie enjoyed gardening, woodworking, beekeeping, inventing, and building.

Ernie is lovingly survived by his children, Judi (Terry) Pergl of Winnebago and Tom (Jackie) Holtz of Peoria; four grandchildren, Jody (Jason) Tindol, Tim Holtz, Mindy Pergl and Nathan (Emily) Pergl; three great-grandchildren; sister-in-law, Ruby Holtz of Muscatine; and several nieces and nephews. Predeceased by his parents, wife, Esther Holtz; and four brothers.

Special thanks to Donna Sabin, the staff at Fairhaven Christian Retirement Center and Heartland Hospice for Ernie's care.

Funeral Information

Service at 11:00 a.m. Friday, February 3, 2012, in Memorial Baptist Church, 7007 Flora Road, Rockford, with the Dr. Terry L. Pergl, officiating. Burial in Willwood Burial Park, Rockford. Visitation 4:00 p.m. to 7:00 p.m., Thursday, February 2, 2012, in Genandt Funeral Home, 602 N. Elida St., Winnebago.
Read More