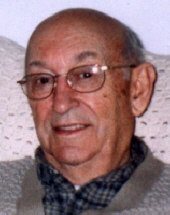 Obituary for Ernest C. Tompkins
Beloved husband, father and grandfather

Winnebago - Ernest C. Tompkins, 84, of Winnebago, formerly of Rockford, died Wednesday night, February 1, 2006, in SwedishAmerican Hospital, in Rockford. Born October 9, 1921, in Slaughters, Ky., the son of Willis and Ollie (Woods) Tompkins. Graduated from high school in Slaughters in 1940. He served in the U.S. Army Infantry, Asiatic-Pacific Theater, during WWII, was wounded and received the Purple Heart. Ernest married Dortha Mae Roskam on November 17, 1945 in First Baptist Church, Rockford. Dortha Mae died September 10, 1994. Ernest married Carol (Ditzler) Bremer on February 10, 1996 in Winnebago. He was employed as a mail carrier for the Rockford post office over 30 years. Upon retiring, Ernest worked at Sears, at the loading dock, and then was a mail messenger/courier for AMCORE Bank. He actively attended Forest City Baptist Church and then Winnebago Evangelical Fellowship, serving as deacon and as a Sunday school teacher. Ernest and Carol enjoyed wintering in Florida and spending time up north at the cabin in Hazelhurst, Wis. He also enjoyed mowing, gardening and fixing things, but was most proud of his grandsons.

Ernest is lovingly survived by his wife, Carol Tompkins of Winnebago, daughters, Gretchen (Paul) Anderson of Rockford, Beverly Tompkins of Salinas, Calif. and Dr. Esther Tompkins of Little Rock, Ark., grandsons, Douglas and Donald Anderson of Rockford and Daniel Anderson of Reno, Nev., brothers, Raymond Tompkins of Kissimmee, Fla., Douglas Mac (Sylvia) Tompkins of Orlando, Fla., Ronnie Tompkins of Oviedo, Fla. and Thomas (Marsha) Tompkins of Kissimmee, sister, Shirley (Warren) Whitmore of Eustis, Fla., stepchildren, Bill (Sally) Bremer of Durand, Susan (Bryan) Kloster of Rockford and Carol Ann (Scott) Aultman of Cedarville, eight stepgrandchildren, and several nieces and nephews.

Ernest was also predeceased by his parents, brothers, Bill, Paul, Roy Lee, Carrol, Harold "Pete" and Dewey Tompkins and sister BarbaraTompkins.

Funeral Information

Service is at 11:00 a.m. Monday, February 6, 2006, in Genandt Funeral Home, 602 N. Elida St., Winnebago, with the Rev. Ken Schmoyer, pastor of Winnebago Evangelical Fellowship, officiating. Burial in Willwood Burial Park, in Rockford. Visitation 3:00 p.m. to 5:00 p.m. Sunday, February 5, 2006 in the funeral home.