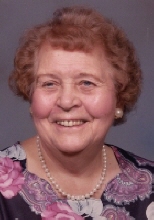 Obituary for Esther Miller
German Valley - Esther Miller, 97, of German Valley, died Wednesday, February 26, 2014, in Stephenson Nursing Center, Freeport, after a short illness. She was born on September 24, 1916, in Mount Morris, the daughter of John and Nora (Floto) Stengel. After graduating from Mount Morris High School in 1934, she obtained her teaching certificate from Carthage College and then taught in several Ogle County one-room schools for five years. Esther married Herman Miller on September 20, 1941, in Mount Morris. Together they farmed in rural German Valley. For over seven decades Esther was an active member of Silver Creek Reformed Church, its various women's groups, and enjoyed teaching Sunday school and catechism. She also was active with the Christian Women's Club in Freeport and created the Sunshine Singers, leading them with her accordion, entertaining residents in local nursing homes. Esther enjoyed many types of music, and loved to help others. Two examples are of her having served with the German Valley Food Pantry and their game night fundraisers, and creating the Young at Hearts, providing many activities for seniors.

Esther is survived by her son, Larry (Kay) Miller of German Valley; daughters, Dianne Bailey of Stevensville, Mont. and Jeanette (Richard Green) Miller of Auckland, New Zealand; granddaughter, Colleen Miller of German Valley; and great-granddaughter, Danica Fong. She is predeceased by her husband, Herman, on February 10, 1989; son-in-law, Doyle Bailey; and sister, Erma Ubben.

Funeral Information

Service is at 1:30 p.m., Saturday, March 1, 2014, in Silver Creek Reformed Church, 326 S. Bunker Hill Rd, German Valley, with visitation from 12:00 p.m. until service time; the Rev. Allen Schut will officiate. Burial in Silver Creek Cemetery, German Valley.
Read More