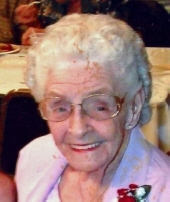 Obituary for Evelyn A. Lovett
Burritt Township - Evelyn A. Lovett, 91, of Burritt Township, died Thursday afternoon, September 27, 2007, in her home, surrounded by her loving family. She was born on March 24, 1916, in Rockford, the daughter of Clarence J. and Rose Ethel (Wills) Conklin. She graduated from Rockford Central High School in 1934 and attended Rockford College for two years. Evelyn married Arnold F. Lovett on June 28, 1936, in Grace United Methodist Church of Rockford. Together they farmed for many years. In the early 1950's Evelyn supplemented the farming income by working in the shoe department of Rockford Dry Goods. Having trained in Chicago, she taught piano for several years and was the church organist at Burritt Community Church and Pecatonica United Methodist Church. She was an active member of Burritt Community Church, having served as choir director, and was a member of the Winnebago County Home Extension. Evelyn and Arnold enjoyed traveling in all 50 states and 11 provinces of Canada and had enjoyed their second home in Florida since 1966; she also traveled overseas with her daughters. Evelyn enjoyed creating seashell art and showing her work at area craft shows and enjoyed collecting eggs. She was recently honored at the Trask Bridge picnic as being one of the oldest Burritt Township residents.

Evelyn is lovingly survived by her daughters, Betty (Jim) Schmerse of Durand, Phyllis Jean Buchanan of Fairbanks, Alas. and Delores (Russ Pudwill) Schelm of Pecatonica; son-in-law, Clyde Grover of Rockford; grandchildren, Brian (Heather Mink), Brad (Lisa) and Randy (Andrea) Grover, Timothy (Pam) and Thomas (Juli) Schmerse, Tammy Ganshirt, Tina (David) Miller, April (Chad) Russell and William (Juanita) Schelm, Jr.; seventeen great-grandchildren; two great-great-grandchildren and several nieces and nephews.

Evelyn was predeceased by her husband, Arnold Lovett on June 25, 1995, her daughter, Mary Ellen Grover on December 22, 2004 and son-in-law, William Schelm, Sr. on June 22, 1996.

Funeral Information

Service is at 11:00 a.m., Saturday, September 29, 2007, in Genandt Funeral Home, 602 N. Elida St., Winnebago, with visitation from 9:00 a.m. until service time; the Rev. Ruth Lyons, pastor of Burritt Community Church in Rockford, will officiate. Burial in North Burritt Cemetery in Winnebago.