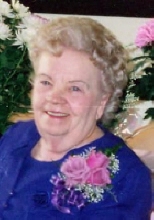 Obituary for Evelyn M. Mernack
Loving Mom, Grandma and Great-grandma

Pecatonica - Evelyn M. (Guffey) Mernack, 90, of Pecatonica died Monday, Dec. 19, 2011, in River Bluff Nursing Home. Born on March 13, 1921, in Elk Grove, the daughter of William and Winefred (Kerrigan) Harms. Evelyn married James S. Guffey and then married Lester G. Mernack. She worked in production at Warner Lambert in Rockford retiring in 1985.

Evelyn is lovingly survived by son, James (Pat) Guffey of Rockford; daughter, Nancy Cummins of Pecatonica; grandchildren, Jeremy (Jennifer) Guffey of Pecatonica, Jessica Guffey of Chicago, Jacob (Megan) Guffey of Chicago, Becca Lewis of Wyo., Elissa Lewis of Galva, Carrie (Kevin) Erbe of Pecatonica, Vanessa Guffey of Beloit; great-grandchildren, Jayden Guffey, Maddox Kaumo-Lewis, Sebastian Garwick, Taylor Garwick, Alex Garwick and Kayleigh Erbe; brothers, Ray Harms of Arlington Heights and Don Harms of Calif.; and sister Rita Renville of Kankakee. Predeceased by both husbands; son, Gary Guffey; sister, Florence Inman; and brother, Leroy Harms.

Funeral Information

Service at 10:00 a.m. Friday, Dec. 23, in Genandt Funeral Home, 602 N. Elida St., Winnebago, Pastor Tim Spickler, of New Life Bible Church, Winnebago, officiating. Burial in Scandinavian Cemetery, Rockford. Visitation 9:00 a.m. until service time.
Read More