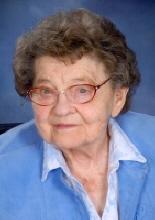 Obituary for Fannie F. Erxleben
Leaf River Fannie Frieda Erxleben, 98, of Leaf River, died Friday, July 22, 2016, in her daughters home, with her loving family at her side. Born April 6, 1918, in rural German Valley, the daughter of Louis and Etta (Buss) Gruis. She graduated from Leaf River High School in 1936. Fannie married Boyd R. Erxleben on May 29, 1941, in Christian Reformed Church, German Valley. Together, they farmed in rural Leaf River. She was an active member of Middle Creek Presbyterian Church, having taught Sunday school, created a puppet ministry with puppets designed by herself, was a charter member of Mariners and was a member of its womens Bible circle. Fannie was known for her beautiful flower gardens, making cakes for every family birthday and wedding, creating corn husk dolls, and designing and sewing her own garments.

Fannie is lovingly survived by her daughter, Bonnie Toomsen and son, Gordon (Carol) Erxleben, both of Rockford; grandchildren, Dawn (Douglas) Rand of Belvidere, Tammy (Dwayne) Uphouse of Cedar Rapids, Iowa, Warren (Vicki) Erxleben of New Liberty, Iowa, Beth (Tom) Parker and Becky (Scott) Pelhank, both of Wheaton; twelve great-grandchildren; three great-great-grandchildren; and several nieces and nephews. Fannie is predeceased by her parents, husband, Boyd, on February 17, 2008; son-in-law, Donald Toomsen; brother, Henry Gruis; and sisters, Mabel Anderberg and Edythe Eickman.

Funeral Information

Service is at 11 a.m. Thursday, July 28, 2016, in Middle Creek Presbyterian Church, 12473 Montague Road, Winnebago, with visitation from 10 a.m. until service time; the Rev. Dr. Anita Stuart-Steva, will officiate. Burial in Middle Creek Cemetery, Winnebago.
Read More