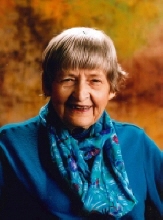 Obituary for Florence B. Lenox
Florence B. Lenox, 84, of Longmont, CO, died Wednesday, October 5, 2016. She was born June 21, 1932 in Rockford, IL to Frank and Agnes (Smith) Bute. Florence was raised on her familys farm in Winnebago County. She attended Winnebago High School and was active in 4-H, winning a blue ribbon at the state fair for her muffins. She graduated from former Rockford College and acquired her Registered Nursing degree from Presbyterian St. Lukes in Chicago. After years of nursing, she became an instructor for Swedish American Hospital's School of Nursing. Florence was also an active member of Central Christian Church. In 1999, Florence moved to Longmont, CO. She was a member of Grace Evangelical Free Church and spent her time serving her family and church.

Survivors: Daughter, Wilda (Steve) Jessup, Longmont, CO; Son, Forrest Snavely, Rockford, IL; Grandchildren, Faith (Daniel) Scott, Greeley, CO, Cora Jessup, San Diego, CA and Eric (Katie) Snavely, Rockford, IL; 2 great granddaughters, Rockford, IL; Sisters, Janet E. Galbreath, Ava, IL and Marylinn Hunter Bute, Cobden, IL; Nephew, Walter Galbreath, Kansas City, MO.

Funeral Information

Private family services will be held at Willwood Burial Park, Rockford, IL. Please join the family for a time of gathering and celebration from 1:00 pm 3:00 pm, Monday, October 17, 2016 at Tonis of Winnebago, 508 Elida St., Winnebago, IL.