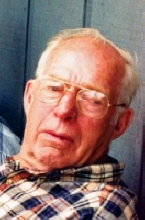 Obituary for Fred H. "Fritz" Viel
German Valley - Fred H. "Fritz" Viel, 82, of German Valley, died Wednesday evening, October 1, 2008, in Alden-Park Strathmoor, Rockford, after a short illness. Born November 3, 1925, in German Valley, the son of Henry and Jennie (Friemuth) Viel. Fred married Kathryn Penticoff on December 8, 1949, in Freeport. Fritz owned Viel's Garage, primarily fixing tractors and farm equipment. He enjoyed fishing.

Fritz is lovingly survived by his wife, Kathryn Viel of German Valley; children, David (Cindy) Viel of Ridott, Darlene (Gene) Janssen of Rock City, and Debra (Francis) Bruce of Freeport; grandchildren, Jennifer (John) Heeren of Pecatonica, Jaime Viel of Ridott, Jaci (Matt) Spielman of Pecatonica, Erik Janssen of Rock City, Stacy (Jason) Klenz of Rockford, and William and Alyssa Bruce, both of Freeport; brother, Henry (Janice) Viel of Pecatonica; sister, Grace (Kenneth) Klenz of Freeport; sister-in-law, Maude Viel of Pecatonica; and numerous nieces and nephews.

He was predeceased by brothers, Albert, George and Harm Viel; and sister, Kay Vautsmeier.

Funeral Information

Service is at 11:00 a.m., Saturday, October 4, 2008, in German Valley United Methodist Church, 7 Main Street, German Valley, with visitation from 9:30 a.m. until service time; the Rev. Joe Barefield, chaplain of Passages Hospice, will officiate. Burial in Christian Reformed Cemetery, in German Valley.
Read More