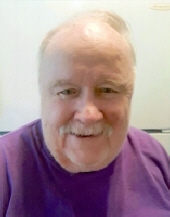 Obituary for Gary D. Gaston
Winnebago - Gary D. "Yup Yup" Gaston, 76, of Winnebago, died Tuesday, May 3, 2016, in Alden Debes Rehabilitation and Health Care Center, Rockford. Born May 4, 1939, in Shirland, the son of Vernon and Viola F. (Schwartz) Gaston. Graduated from Winnebago High School and then served in the U.S. Army, stationed in Germany. Gary married Judy Brown on September 4, 1965. He was a U.S. postal clerk for many years, retiring in 1996. Gary was active with the Boy Scouts of America while his boys were growing up. He enjoyed fishing, bowling, and hiking, including taking long walks throughout Winnebago.

Gary is lovingly survived by his wife, Judy; children, Dianna (Rory) Camplain and Mathew Gaston; grandson, David Owens; sisters, Mary "Spark" (Eldon) Logemann and Gayle Bodin; and several nieces and nephews. He was predeceased by his parents; daughter, Lori Gaston; son, Douglas Gaston; brother, Eldon Gaston; brother-in-law, James Bodin; and niece and nephew, Dana and Craig Logemann.

Funeral Information

Private graveside service on Monday, May 9, 2016, in North Burritt Cemetery, Winnebago, with Pastor Matthew Smith, pastor of Winnebago United Methodist Church, officiating.
Read More