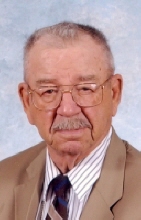 Obituary for Gene Coots
Winnebago - E. Gene Coots, 80, of Winnebago, died Wednesday, June 4, 2014, in River Bluff Nursing Home, Rockford, after a lengthy illness. Born January 23, 1934, in Burritt Township, the son of Carroll E. and C. Janette (Gale) Coots. Attended Winnebago High School and then enlisted with the U.S. Marine Corps, serving from July 16, 1951 to July 16, 1954, achieving the rank of staff sergeant, during the Korean War. For over 30 years, Gene was a Winnebago County Sheriff's deputy, achieving the rank of captain, over the detective bureau. Upon retirement he then worked in sales at Northern Illinois Tractor Equipment (NITE), Pecatonica. Having a love for history, Gene served on the Midway Village Board, and assisted the Burritt Museum, along with donating his historical collectibles to various places. He also enjoyed woodworking, researching the Coots/Gale genealogy and serving on the board that revived the Trask Bridge Picnic.

Gene is lovingly survived by his daughter, Gail (David) Anderson and grandchildren, Janette and Miguel Anderson, all of Lubbock, Texas; brothers, Lynn (Judie) and Merrill "Whitey" (Connie) Coots, both of Winnebago; several nieces and nephews; special cousin Wayne (Martha) Gale of Winnebago; and dear friend, Gail Bainbridge of South Beloit. He was predeceased by his parents and sister, Marbry (Marvin) Lightfoot.

Gene's family would like to thank Dr. Raccanelli and Dr. Rogers for their diagnosis of Shy-Drager Syndrome and their loving care.

Funeral Information

Service is at 11:00 a.m., Monday, June 9, 2014, in Genandt Funeral Home, 602 N. Elida St., Winnebago, with the Rev. Larry Moody, pastor of Burritt Community Church, Rockford, officiating. Cremation rites will be accorded following the service. Burial of cremated remains in North Burritt Cemetery, Winnebago. Visitation 4:00 p.m. to 7:00 p.m., Sunday, June 8, 2014, in the funeral home.
Read More