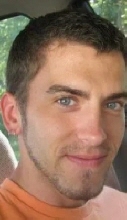 Obituary for Gene D. Johnson III
Loving Son, Brother, Grandson, Father, Nephew, Cousin and Friend

Pecatonica - Gene D. Johnson III, 30, of Pecatonica, died Saturday, July 26, 2014, in his home. Born October 26, 1983, in Rockford, the son of Gene and Wendy (Becker) Johnson Jr. He was a Pecatonica High School graduate. Gene was very family oriented and cherished every moment with his daughter, Breyah Nichole Johnson. He was known for the smile on his face and humor from his lips, always a comedian.

Gene is lovingly survived by his parents; sister, Nichole (Jeremy) Doner; daughter, Breyah Johnson; son, Wyatt Miller; nephews, Aiden and Colten Doner; grandparents, Richard and Madeline Baker and Gene Johnson Sr.; girlfriend, Josepha "JoJo" Klickner; and several aunts, uncles and cousins. He was predeceased by his grandmother, Elsie Johnson and grandfather, Richard Becker.

You fell asleep without goodbye,
But memories of you will never die.
Time may pass and fade away,
But memories of you will always stay.

Funeral Information

Service is at 7:00 p.m., Wednesday, July 30, 2014, in Genandt Funeral Home, 602 N. Elida St., Winnebago, with the Rev. Meridith T. Graham, chaplain of Rosecrance, Rockford, officiating. Cremation rites have been accorded.