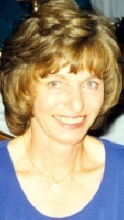 Obituary for Genise Adele Hazzard
Pecatonica - Genise Adele (Hilton) Hazzard, 62, of Pecatonica, died Monday, April 7, 2014, in her home. She was surrounded by her loving husband of 41 years, Ken, her children, siblings and her mother. Genise was born December 29, 1951, in Freeport, the daughter of Richard and Sara (Gereau) Hilton. She graduated from Winnebago High School in 1970. Genise married Kenneth Hazzard on March 24, 1973, in Seward Congregational Church. Together they raised their family and farmed in Seward Township.

Genise is lovingly survived by her husband, Ken; children, Andrea Hazzard of Pecatonica, Adam and Rebecca (Martin) Hazzard and their children, Henry, Johnny and Ada of German Valley, Lauran and Thadd Wendt and their children, Xavier, Merrick, Keegan and Ruth Adele of Pecatonica; mother, Sara Hilton of Seward; siblings, Stan (Cathy) Hilton of Rockford; Deanna Hazzard of Orangeville, Pamela (Jud) Hannum of Lake Villa, and Sheila (Neal) Newton of Overland Park, Kansas; along with many nieces, nephews, and extended family. She is predeceased by her father, Richard, and brother-in-law, David Hazzard.

Funeral Information

Service is at 11:00 a.m., Thursday, April 10, 2014, in Seward Congregational Church, with the Rev. David Bordy, officiating. Visitation 5:00 p.m. to 8:00 p.m., Wednesday, April 9, 2014, in the church fellowship hall. Cremation rites were accorded.
Read More