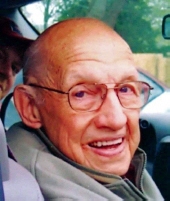 Obituary for Gerald Stahl
Loving Husband, Cherished Dad & Gramps, & Sweet Man

Winnebago - Gerald Stahl, 85, of Winnebago, died Saturday morning, March 14, 2009, in Rockford Memorial Hospital, after a lengthy illness. Born April 28, 1923, in Adeline, the son of Louis and Grace (Lameyer) Stahl. Gerald married Mary Jane Grove on November 8, 1947, in the parsonage of Winnebago United Methodist Church. He was a grinder at WF John Barnes Co. for 37 years. Gerald then was a custodian at the Winnebago Grade School for three years. He was an active member of Winnebago United Methodist Church. Gerald enjoyed yard work, playing horseshoes, and bowling. Being a family man, he adored playing with his grandchildren. His family wishes to thank all nursing staff on B4 and A3 at Rockford Memorial Hospital for the wonderful care and love they showed for Gerald and Mary Jane during his stay there, along with VNA Hospice.

Gerald is lovingly survived by his wife, Mary Jane Stahl; son, Eugene (Juanita) Stahl; daughters, Pamela Stahl, Sharon (Ed) Oliver, Sandra (Terry) Dietrich, and Cynthia (Brad Seago) Hawkinson; grandchildren, Adam (Katie) Stahl, Mary (Phil) Baker, Rachel (Jake) Rankin, Emily Ann Oliver, Stephen (Michelle) and Stephanie (Leroy Camp, Jr.) Dietrich, and Nicholas and Michael Hawkinson; great-grandsons, Tyler Dietrich and Mason and Jackson Stahl; brother, Lawrence (Margaret) Stahl; sister-in-law, Iris Stahl; and numerous nieces and nephews.

He was predeceased by his parents; brothers, Henry, and Lloyd Stahl; sisters, Marie Kloster, Lucy Viel and Margaret Smith; and son-in-law, Dennis Hawkinson.

Funeral Information

Service is at 11:00 a.m., Wednesday, March 18, 2009, in Genandt Funeral Home, 602 N. Elida St., Winnebago, with the Rev. Rick Neblock, pastor of Winnebago United Methodist Church, officiating. Burial in Willwood Burial Park, in Rockford. Visitation 5:00 p.m. to 7:00 p.m., Tuesday, March 17, 2009, in the funeral home.
Read More