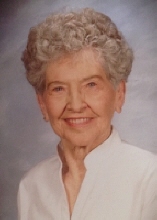 Obituary for Gertrude E. Swalve
Winnebago - Gertrude "Trudy" Swalve, 93, of Winnebago, died Friday, July 10, 2015, in her home. Trudy was born July 3, 1922, in Grundy Center, Iowa, the daughter of Clarence D. and Elizabeth (Harberts) Stachour and graduated from Sibley High School, Iowa, in 1940. She worked at the Pentagon during WWII. Trudy then attended the University of Dubuque, where she met the love of her life, and married the Rev. George H. Swalve, Jr. on June 14, 1946, in Holland, Iowa. They came to Winnebago and served together at Middle Creek Presbyterian Church for 39 years, retiring in 1985. In addition, Trudy was a school bus driver for Winnebago School District 323 for 22 years, retiring in 1992. She was active at Middle Creek Presbyterian Church and at Third Presbyterian Church, Rockford, where she enjoyed singing in both church choirs, along with other ministries of the churches. Along with George and others, she was instrumental in the founding of Illinois Growth Enterprises. Trudy was a trustee of the Stronghold Camp and Conference Center in Oregon and volunteered many years at Rockford Memorial Hospital. She enjoyed gardening, attending concerts and plays with close friends, and dearly loved being with her grandchildren.

Trudy is lovingly survived by her children, David (Jean) Swalve of Greenwood, IN, Sandra (Richard) Goodenough of Auckland, New Zealand, Daniel (Debbie Means) Swalve of Winnebago, Richard (Kimberly) Swalve of Byron, and Brian (Pam) Swalve of Lake in the Hills; grandchildren, Brian (Denise) Swalve, Suzanne (Adam) Lee, Michael Swalve, Sean Swalve, Shannon Swalve, Savannah Swalve; stepgrandson, Tracy Goodenough; great-grandchildren, Ian Swalve, and Sam and Audrey Lee; and many nieces and nephews. She was predeceased by her parents, husband, George, on July 8, 2004; four brothers and a sister.

Funeral Information

Service at 11:00 a.m. Monday, July 13, 2015, in Middle Creek Presbyterian Church, 12473 Montague Rd, Winnebago, with the Rev. Anita Stuart-Steva, pastor of Middle Creek Presbyterian Church, and the Rev. Murray Hanson, retired pastor of Third Presbyterian Church, co-officiating. Burial in Middle Creek Cemetery, Winnebago. Visitation 2:00 p.m. to 5:00 p.m., Sunday, July 12, 2015, in Genandt Funeral Home, 602 N. Elida St., Winnebago.
Read More