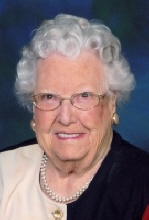 Obituary for Gladys Elaine Gettle
Winnebago - Gladys Elaine (Renner) Gettle, 94, of Winnebago, passed away in her home, Wednesday, July 8, 2015, into the arms of her Savior. She was born December 21, 1920, on the farm near Walnut, the first daughter of Harry and Maude (Stickle) Renner. Gladys married George Earl Gettle on March 7, 1941, in the Walnut First Christian Church, Walnut. Gladys' early school years were at the Meek School, which Gladys' grandfather had helped build and her father became one of the board of directors for the school. Her next schooling was in Walnut, where she learned to write for the school paper, and being a librarian, where she found her love of reading books and writing. She graduated from Walnut High School in 1938. She used her skills later when she started keeping the books for the farm operations and working for the Leaf River Tempo where she helped the paper to win awards for their editorials. She became editor of the Leaf River Register before retiring. She was the farmer's wife, mother, farm-hand, bookkeeper, and a great cook for the family. Gladys loved to bake and baked cakes for all kinds of occasions for others to make some extra money. She would sell eggs in Rockford at the different factories. Gladys and Earl had three sons that they raised on the farms. They farmed in Bureau County until 1951, when they bought a farm about five miles northwest of Byron in Ogle County and farmed there for ten years. They then bought a farm at Montague and Pecatonica Road in Ogle County and farmed there until October of 1981 when they retired from farming and built the home in Winnebago. Earl died March 21, 1995 in St. Anthony Medical Center, Rockford. Gladys and Earl attended the Myrtle Methodist Church before it closed, and then the Leaf River United Methodist Church, Leaf River, where she taught Sunday school. When they moved to Winnebago, they attended the Winnebago Evangelical Fellowship Church. Gladys taught in the Sunday schools for 25 years, all tolled at the different churches they attended.

Gladys is lovingly survived by her sons, Richard E. (Judy) Gettle of Winnebago, Marvin L. (Choo) Gettle of Rockford and Stanley E. (Rita) Gettle, of Winnebago; eight grandsons; nine great-grandchildren; three great-great-grandchildren; sisters, Shirley I. Creager and Phyllis L. Warner, both of Winter Haven, Fla; brother, Leslie D. (Char) Renner of Walnut; and numerous nieces and nephews. She was also predeceased by her parents; granddaughter, Tammy Gettle; a great-granddaughter; brother, Harry Dale Renner; and sisters, Verle I. Tracy and Eleanor J. Sidebottom

The family wishes to thank Hospice Care of America for their guidance and care during our mother's illness and passing. We would also like to thank Mom's caregiver, Doyette, who gave Mom comfort and great care during this trying time and In Home Personal Services.

Funeral Information

Service at 11:00 a.m. Saturday, July 11, 2015, in Genandt Funeral Home, 602 N. Elida St., Winnebago, with visitation from 10:00 a.m. until service time; the Rev. Ken Schmoyer, pastor of Hospice Care of America, Rockford, will officiate. Burial in Winnebago Cemetery.
Read More