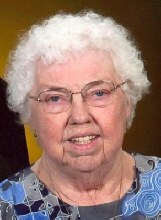 Obituary for Gladys L. Mueller
Loving Mother, Grandmother & Great-grandmother

Winnebago - Gladys L. Mueller, 89, of Winnebago, died Saturday, November 24, 2012, in Rockford Memorial Hospital, following a short illness. Born February 24, 1923, in German Valley, the daughter of George and Ella (Eisen) Reints. Graduated from Pleasant Prairie Academy in 1941. Gladys married Robert Pete "Bob" Mueller on June 5, 1954, in Rockford. They farmed together in rural Pecatonica for 43 years. In addition, Gladys performed assembly work at Burgess Factory Co. for 10 years and at Amerock for 12 years, retiring in 1986. She was a member of Winnebago United Methodist Church. Gladys dearly loved spending time with her grandchildren.

Gladys is lovingly survived by her children, Mark (Beverly) Mueller of Trezevant, Tenn., Donna Mueller of Winnebago and Denise (William) Alldritt of Pecatonica; grandchildren, Daniel (Amber) Mueller, and Victoria Mueller, both of Trezevant, Paul (Becky) Mueller of Greenfield, Tenn., Cora Mueller of Winnebago and Nathan, Lilly and Lindsay Alldritt of Pecatonica; great-grandchildren, Brilye and Marissa Mueller, and Isaac and Ethan Mueller; and many nieces and nephews. She was predeceased by her parents; husband, Robert Mueller on January 22, 2010; and sisters, Eleanor Johnson, Irene Suess, Marie Kapeman and Minnie Kilker.

Funeral Information

Private service in Genandt Funeral Home, 602 N. Elida St., Winnebago, with the Rev. David Decker, pastor of Winnebago United Methodist Church, officiating. Burial in Twelve Mile Grove Cemetery, Pecatonica.