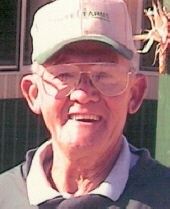 Obituary for Harlan E. Fry
Loving Husband, Dad and Grandpa

Seward - Harlan E. Fry, 84, of Seward, having recently moved to Lena, passed away Friday, September 5, 2014, in his home with his family present. Harlan was born August 15, 1930, in Egan, the son of (Emmanuel) Marshall and Lucille (Reber) Fry. He was the second of six children. He graduated from Pecatonica High School and went into the Army where he served as a corporal for the 82nd airborne as a paratrooper.

Harlan married Esther Elizabeth Storey on June 19, 1955. He is lovingly survived by his wife; three daughters, Paris (Dan) Hughes of Lena, Penny Davis of Pecatonica, Pierre' "Sam" Allen of Monroe, Wis.; nine grandchildren, Marshall (Stephanie) Hughes, Morgan (Steve) Simmons, Mason (Taylor Strohecker) Hughes, Mitchell (Jane West) Hughes, Chase Davis, Chelsea (Samir Darras) Davis, Chancelor Davis, Koty Beth (Blake Darnell) Allen and Kade Allen; two great-grandchildren, Saige and Steven Simmons; sisters, Janis Kampmeier of Pearl City, Jean Melton and Sue (Lynn) Jansen, both of Winnebago; sisters-in-law, Marguerite Johnson and Bette Dunbar; and numerous nieces and nephews. He was predeceased by his parents and brothers, Norman and Roy.

Harlan owned Seward Produce Supply for 35 years. He was very passionate about his Simmental cattle, showing them nationally under the name of Triple "F" Simmental Farm until the 1990s. Harlan then worked for the Winnebago County Highway Dept. until his retirement. During his lifetime, he served on the Winnebago County Board, the Winnebago County Forest Preserve Board, the Seward Township Board, the Illinois Simmental Assoc. where he was an active member, board member and also served as president. He was an active member of the American Simmental Assoc. He was a volunteer of the Seward Fire Dept. for over 40 years where he also served as fire chief as well as a founding member of the Seward Sanitary District.

Funeral Information

Service is at 11:00 a.m., Thursday, September 11, 2014, in Seward Congregational Church, with visitation from 9:30 a.m. until service time; the Rev. David Bordy will officiate. Burial in Twelve Mile Grove Cemetery, Pecatonica. Visitation 4:00 p.m. to 8:00 p.m., Wednesday, September 10, 2014, in Genandt Funeral Home, 602 N. Elida St., Winnebago.
Read More