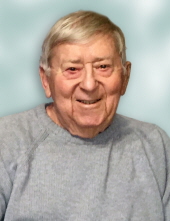 Obituary for Harold Glenn Wakeley
Winnebago - Harold Glenn Wakeley, of Winnebago, 86, died Saturday, September 8, 2018 at home surrounded by his loved ones. He was born September 20, 1931 in Harvard, Illinois, to Leslie Marion and Hazeldene (Hagar) Wakeley. Harold's family were dairy farmers who lost the family farm during the Great Depression. His father became a farm manager and the family lived at farms in Harvard, Amboy, Sycamore, Union Grove, Lake Zurich, and Marengo. Harold lived in Winnebago with his Aunt Wilma (Hagar) McMichael and attended Winnebago schools for first and eighth grades. He graduated from Woodstock High School in 1949 and is an honorary member of the Winnebago High School Class of 1949. He enlisted in the United States Navy in 1951 and served on the aircraft carrier USS Cabot through 1954. He attended the University of Illinois at Navy Pier in Chicago and received his Bachelor of Science in psychology, a Master of Science in experimental psychology and a Doctor of Philosophy (PH.D) in physiological psychology all three degrees from the Illinois Institute of Technology in Chicago. He worked for General Dynamics in California and Florida as a "rocket scientist," contributing to the Atlas rocket program. He spent most of his career as a research scientist at the Illinois Institute of Technology Research Institute in Chicago. On retirement, he formed his own consulting firm, Human Factors Research Group.

In 1958, Harold married Mary Joan Tobin. They had two children, Jonathan and Beth. Harold married his present wife, Patricia Ann (Jones) Wakeley in 1982. Harold and Pat moved to the family home in Winnebago in 1993.

Harold was a man of many interests. He loved his work as a research scientist and consultant, whether it was working with monkeys, measuring highway lighting in the middle of the night, examining car windshields in junk yards in Arizona, blowing up things, or testifying in court on behalf of someone who lost a hand in a meat grinder or was struck by a train. He was an adventurer who took his family on a memorable road trip to Baja Mexico in a red Volkswagen bus and built his own glider bi-plane. He loved teaching human factors and mentored many young designers at the IIT Institute of Design. He loved antique cars and "orphan" tractors and going to the Sycamore Steam Show and Threshing Bee. He went sailing and flying with his brother Donald and regularly attended the EAA AirVenture. He was a folk music fan and attended the University of Chicago Folk Festival for many years. Going to auctions was a favorite pastime, as his collection of antique toys and Erectors sets shows. He loved tinkering, spending time with family, and was a big Packers fan. As he would say…"But, wait, there's more!"

Harold is survived by his wife, Pat; son, Jonathan (Sherri); daughter, Beth (Bruce); grandchildren, Rachael (Chris), Corey (Tara), Leslie (Victor), Dana (Justin), Justin, Braden; great-grandchildren, Brystin, Jaelynn, Heather, Karlee, Natalie, Amya; sisters, Ruth Johnson, Lucille Austin; brother Donald Wakeley; numerous nieces and nephews; and beloved pets, Sassy and Indiana bunny.

Harold is predeceased by his parents; brother Milo Wakeley; brother-in-laws, Morris Johnson, Dwight Austin; sister-in-laws, Dorothy Wakeley, Marian Wakeley; nephew Christopher Austin; niece, Betty Jo Bruhn; first wife Mary Wakeley.

Funeral service 1:00 p.m. Sunday, September 16, 2018, at Genandt Funeral Home, 602 N. Elida St., Winnebago with Pastor Gretchen Hammeke of Westminster Church in Rockford officiating. Cremation to follow the funeral service. Visitation 5:00 p.m. to 7:00 p.m. Saturday, September 15, 2018, at the funeral home. In lieu of flowers a memorial will be established for the Winnebago Community Historical Society. For an online obituary and tributes go to www.genandtfuneralhome.com.
Read More
Previous Events
Visitation
Genandt Funeral Home
602 N. Elida St.
Winnebago, IL 61088
Funeral Service
Genandt Funeral Home
602 N. Elida St.
Winnebago, IL 61088
Cremation to follow the funeral service.
Memorial Contribution
Winnebago Community Historical Society