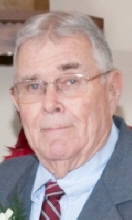 Obituary for Harold William Naill
Winnebago - Harold William "Bill" Naill, 80, of Winnebago, passed away Thursday, December 19, 2013, in his home, surrounded by his loving family after a short illness. Bill was born in Rockford, on August 1, 1933, the son of Harold and Edith (Glinndining) Naill. He graduated from West High School, Rockford, in 1951. Bill was a proud member of the United States Marine Corps, serving from 1952 to 1955, and was in active combat in the Korean War, which had a profound impact on the rest of his life. He converted to Catholicism in 1957 and married Rosemary Ann Brown on December 28, 1957, in St. Patrick Church, Rockford. With his lovely wife, they had eight beautiful children, Grace (Steve) Scheider of Winnebago, Mary (Kevin) Passmore of Byron, Karen (Dan) Riley of Winnebago, Patrice (David) Doyle of Roscoe, an infant angel in heaven, Bill (Andrea) Naill of Winnebago, Tim (Kathy) Naill of Winnebago and Rev. Joseph Naill of Oregon. Bill has 18 grandchildren, Jacob, Micah, Noah, Ryan (Alyssa), Justin (Karrie), Adam, Zach, Taylor (Katie), Kallihan, Brooke (Mario), Brittney (Josh), Shawna, Shane, Chase (Nina), Jonah, Braden, Cole and Lauren; and six great-grandchildren, Reid, Kade, Avery, Luca, Gabriel, Ethan and Isaiah.

Bill obtained his Bachelors of Science and Master of Science from Northern Illinois University in 1958 and 1966, respectfully. He served as a teacher in Rockford from 1958 to 1967 and in management at Rockford Products from 1967 to 1987. Bill lived in Winnebago from 1966 until he moved with his wife to Tucson, Ariz., in 1987 where he served as Vice President of Operations for Concise Fabricators from 1987 to 2012. After his first of several "retirements", Bill and Rosemary moved back to Winnebago in 2005. He loved to work in his yard and tinker in his garage. Bill loved to work with his hands, often creating little wood gifts he gave his children at Christmas. He was a die-hard Cubs and Bears fan.

Bill is survived by his wife; children; and sister, Patricia Hansen. He is preceded in death by his child; parents; grandparents; brother-in-law, Clark Hansen; and his great-granddaughter, Avery Gibson.

Special thanks to the physicians and nurses at Rockford Memorial Hospital and to VNA Hospice.

Funeral Information

Mass of Christian Burial will be offered at 11:00 a.m., Monday, December 23, 2013, in St. Mary's Catholic Church, 126 W 5th St., Pecatonica, with the Reverend Joseph Naill officiating. Cremation rites will be accorded after the service. Private burial in Calvary Catholic Cemetery, Winnebago. Visitation is 4:00 p.m. to 7:00 p.m., Sunday, December 22, 2013, in Genandt Funeral Home, 602 N. Elida St., Winnebago.
Read More