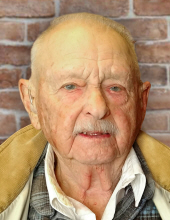 Obituary for Harry Jacobsen Jr.
Harry Jacobsen, 89, of Rockford, Illinois, passed away in his home on January 11, 2022. Harry lived his entire life on the Jacobsen family farm, raising chickens, goats and vegetables. He was a long-time vendor at Chana 64 Auction House & Flea Market.

Born on May 26, 1932, Harry was the only child of Harry Jacobsen and Margaret (Taylor) Jacobsen. After his father died when he was a young man, Harry tended the farm with the stalwart fortitude of his Danish ancestors. It was not until late in his life that Harry met his sweetheart, Anna (Raymer) Prentice at church. Harry and Anna married in 2007, and they kept loving company until her death in 2021.

Harry is survived by his step-children, Patricia Schmidt of Pittsburgh, Pennsylvania, Kimberly (Michael) Walsh of Rockford and Clinton (Maria Leyvas) Prentice of Colorado Springs, Colorado. He will be lovingly remembered by his step-children, grandchildren and great-grandchildren.

Harry will be sadly missed by many friends, including, but certainly not limited to, Kenny Colloton, Jeff Colloton and Darrel Nelson.

We will all miss Harry talking about the weather, and we are pretty sure that the first thing he did upon arriving in Heaven was to ask God what the weather was like there.

A celebration of life will be held at a later date. Cremation rites accorded with interment at Winnebago Cemetery near Winnebago.

Arrangements by Genandt Funeral Home, 602 N. Elida St., Winnebago. For an online obituary and tributes go to www.genandtfuneralhome.com.
Read More
Cemetery Details
Location
Winnebago Cemetery
Westfield Rd.
Winnebago, IL 61088