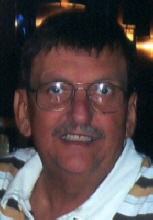 Obituary for Harvin "Harv" L. Giedd
Winnebago - Harvin "Harv" L. Giedd, 51, of Winnebago, died unexpectedly early Friday morning, October 6, 2006, in University of Illinois at Chicago Medical Center. Born January 24, 1955, in Freeport, the son of Leonard and Clara (Janssen) Giedd. He graduated from Shannon High School in 1973. Harv married Lisa Carpenter on September 6, 1975, in Orangeville. He first was involved in the dairy business with the installation of equipment, then was a route salesman before operating his own business, Dairy Care, in Davis, for over fifteen years. For the past seven years, Harv was a loan officer for a mortgage broker. An avid fisherman, he also loved to sing karaoke, with a specialty for Elvis's tunes, in Forreston, Freeport, Lake Summerset, Rockford and its surrounding communities. Harv loved hosting and attending gatherings for his large family and many friends.

Harv is lovingly survived by his wife, Lisa Giedd of Winnebago, sons, Daniel (Khamsin) Giedd of Minneapolis, Minn. and Matthew Giedd of San Diego, Calif., sister, Betty McCollum of Lake Summerset, brothers, Arnold (Kay) Giedd of Freeport, Verlyn (Connie) Giedd of Shannon, Dale (Mike Blazina) Giedd of Los Angeles, Calif. and David (Ramona) Giedd of Lanark, sisters-in-law, Sue Giedd of Forreston and Shirley Moore of Freeport, parents-in-law, Randal and Betty Carpenter of Freeport, brothers- and sisters-in-law and numerous nieces and nephews.

Harv was predeceased by his parents and his brothers, Duane and Raymond Giedd.

Funeral Information

Service is at 11:00 a.m., Tuesday, October 10, 2006, in Genandt Funeral Home, 602 N. Elida St., Winnebago, with Pastor Tim Spickler, of New Life Bible Church in Winnebago, officiating. Burial in Winnebago Cemetery, in Winnebago. Visitation 4:00 p.m. to 8:00 p.m., Monday, October 9, 2006, in the funeral home.
Read More