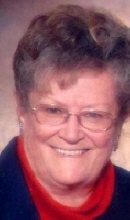 Obituary for Helen Marie Winche
Rockford - Helen Marie Winche, 83, of Rockford, died Saturday, August 27, 2011, in OSF St. Anthony Medical Center, following a short illness. Born on February 2, 1928, in Harco, the daughter of William and Beulah (Page) Frye. Helen was an avid gardener, and loved working with her flowers and cooking. Her passion was doting on her grandchildren and great-grandchildren.

Helen is lovingly survived by her husband, Robert Winche; sons, Greg (Grace) Lunsford, Bill (Karyn) Lunsford; their sister, Norma (Russ) Browning; stepdaughter, Sharon (Bill) Kaple; grandchildren, Aimee (Michael) Jerding, Lindsay (Phil) Haque, Dana Lunsford, William Lunsford, Frank Kolsky, and Suzie Korhorn; stepgrandchildren, Brenda (Wes) Ganz, Billy Kaple and Elaine Kaple; great-grandchildren, Kailey, Jacey, Aviva, Phineas and Carly; stepgreat-grandchildren, Madeline, Alyssa, Brynn, Lexi, Logan, Willa and Patrick; sister-in-law, Mary Frye; and several nieces and nephews. She was predeceased by her parents and four siblings.

Helen's family wishes to thank the emergency room and 2nd floor staff of OSF St. Anthony Medical Center for their care and support.

Funeral Information

Service is at 12:00 p.m., Wednesday, August 31, 2011, in Genandt Funeral Home, 602 N. Elida St., Winnebago, with visitation from 11:00 a.m. until service time; the Rev. Carlton K. Easley, pastor of North Grove Christian Church, Leaf River, officiating. Cremation rites will be accorded following the service.