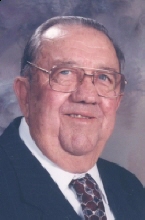 Obituary for Henry F. "Hank" Strakeljahn
Winnebago - Henry F. "Hank" Strakeljahn, 83, of Winnebago, died Wednesday morning, February 17, 2010, in SwedishAmerican Hospital, Rockford after a short illness. Born May 16, 1926 in Winnebago, the son of Henry and Elizabeth (Ferdinand) Strakeljahn. Graduated from Winnebago High School in 1947. Henry married Doris Boyer on February 26, 1949, in Rockford. He was employed by Smith Oil Company for 28 years and then by Winnebago County Highway Department for 12 years. Hank was an active member of First Presbyterian Church and the Win-Bur-Sew Fire Department. An outdoorsman, he enjoyed fishing, golfing, mowing grass in the summer and plowing snow in the winter. Hank dearly loved spending time with his family, especially at their Prairie Lake summer home in Chetek, Wis.

Hank is lovingly survived by his wife, Doris Strakeljahn of Winnebago; children, Diane (Brian) Welte of Columbia, S. C., Deb (Bob) White of Winnebago and Gary (Kim) Strakeljahn of Rockford; 13 grandchildren; ten great-grandchildren; brothers, Robert (Evelyn) and Martin (Elaine) Strakeljahn, both of Lake Mills, Wis.; and numerous nieces and nephews. He was predeceased by his grandson, Andy White; two brothers; and five sisters.

Funeral Information

Service is at 2:00 p.m., Friday, February 19, 2010, in Genandt Funeral Home, 602 N. Elida St., Winnebago, with visitation from 1:00 p.m. until service time; the Rev. Steve P. Shullanberger, pastor of First Presbyterian Church, Winnebago, will officiate. Burial in Winnebago Cemetery.
Read More