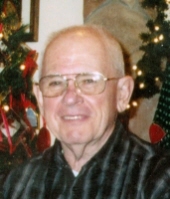 Obituary for Henry "Hank" Grant Kaufman
Winnebago Henry Hank Grant Kaufman, 83, of Winnebago went to be with the Lord on Friday, October 14, 2016 after a long battle with Alzheimers disease at home surrounded by his loving family. He was born January 29, 1933 in Rockford the son of Henry and Edna Resh Kaufman. Graduated from Winnebago High School in 1951 and then enlisted in the U S Navy serving from February 2, 1953 to January 27, 1955 during the Korean War. Hank married the love of his life Sue Luna on October 1, 1955 in the First Presbyterian Church of Winnebago. Hank drove truck for Freeport Fast Freight for over 27 years. He was a member of the First Presbyterian Church in Winnebago, the Win-Bur-Sew Fire Department, the Pecatonica VFW, the Winnebago Masonic Lodge and the Winnebago American Legion. Hank enjoyed woodworking, gardening and dressing up in a red and white Santa suit at Christmas and making children smile. His favorite activity was watching his grandchildren play sports.

Hank is lovingly survived by his wife of 61 years Sue of Winnebago; son Grant (Anne) Kaufman of Winnebago; daughters, Elaine (Jeff) Lingel of Winnebago, Jill (Dan) Johnson of Midway, AR, Dayna (Kendall) Ford of Winnebago; grandchildren Elizabeth Kaufman, Matthew (Christine) Kaufman, Ryan Kaufman, Joe Lingel, Travis Lingel, Chas Lingel, Amber Kaufman, Torri (Kenny) Miller, Toni (Jon) Grogan, Nick (Erin) Ford, Devyn (Magen) Ford, Austyn (Brian) Edwards; eighteen great grandchildren; sisters Joan Kaufman of San Antonio, TX and Judy Newberry of Winston Salem, NC.

Hank was predeceased by his parents and brother Tom Kaufman.

Hanks family would like to thank the Northern Illinois Hospice, Vicki of the Swedish American Home Health Care and the Veterans Administration for their loving care.

Funeral Information

Memorial service at 6:00 p.m. Wednesday, October 19, 2016 in the First Presbyterian Church in Winnebago with a visitation 3:00 p.m. until service time with Pastor Carroll Smith officiating. Arrangements by Genandt Funeral Home, 602 N. Elida St., Winnebago.